Mar. 15, 2016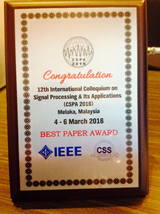 Award winner: Mr. Hiroki Tanji (Yoshihisa Ishida Lab / Electrical Engineering Program master's course, 2nd year)
Award winner: Best Paper Award
Conference name: 12th IEEE COLLOQUIUM ON SIGNAL PROCESSING & ITS
APPLICATIONS 2016
Venue: Malacca (Malaysia)
Date: March 4, 2016 - March 6, 2016 (Presentation date: March 5)
Presentation title: Nonparametric Bayesian models for AR and ARX identification
Presenters: 〇Hiroki Tanji, Ryo Tanaka, Takahiro Murakami, Yoshihisa Ishida
Subject: The speakers will present a method for estimating AR model and ARX model parameters. According to the proposed method, the coefficient and degree can be simultaneously estimated with regard to the AR model and ARX model, even if the system degree is unknown.

For Mr. Tanji, this marks the second occasion on which he has received a Best Paper Award, following on from the 2013 International Workshop on Smart info-Media Systems in Asia (September 30 - October 2, 2013). Various papers are also included in Signal, image and video processing, published by the Journal of The Institute of Electronics, Information and Communication Engineers and Springer.

Page related to this article