As of May, 2011, there were approximately 1,000 international students from China, South Korea, Taiwan and Hong Kong, studying at Meiji.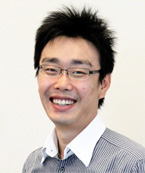 | | |
| --- | --- |
| Name | Yu Xinyu |
| School | Graduate School of Commerce |
| Country | Shangdong Province, China |
Yu Xinyu, from Shangdong Province, China, graduated from the Economics department of a Japanese university and is currently in his second year at the Meiji University Graduate School of Commerce. He will work for a large Japanese securities company after he graduates next spring.
Reasons for choosing to study in Japan
Yu passed the entrance exam to a Chinese university, but he decided to study overseas mainly because his father urged him to take control of his own future by going to a country with a different culture and way of thinking, and where he would not be able to rely on his parents. Yu had the choice of studying in Canada, Australia or Japan, but he had long been interested in how Japan, with so little land and so few resources, could grow to become what was, at that time, the world's second largest economy in terms of GDP. Many Chinese students want to study in English-speaking countries, but Yu was keen to learn another language apart from English. After studying at a Japanese language school and graduating from the Economics department of a university in Tokyo, he wanted to deepen his knowledge of finance and chose to study at Meiji's Department of Commerce, where there are faculty members working in his field of interest.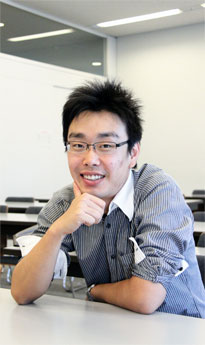 Students at Meiji University are not afraid to voice their opinions
Meiji University's slogan is empowerment of the individual, and Yu feels this concept is embodied in many of the students here. Teamwork is accomplished when individuals think for themselves, share their opinions, and accept their responsibilities as team members. Many students at Meiji have an excellent grasp of this concept. For instance, Yu had often heard that Japanese students were hesitant to voice their opinions due to the importance placed on maintaining group harmony. However, at Meiji, students do not wait to be asked by their lecturers and tutors, and instead take an active role, thinking for themselves, raising questions, and participating enthusiastically in debates, which Yu finds highly stimulating. He also finds the students at Meiji to be great company, as many are cheerful, warm, friendly and unpretentious.
Contributing to Asia's economic growth by working in the finance industry after graduation
The financial crisis of 2007 sparked by the collapse of the subprime loan market affected not only the USA, but the whole global economy. At that time, Yu was studying economics, and strongly felt the need for cooperation among neighboring countries to build a solid Asian economic foundation that would not be swayed by the economies of large nations. He believes that a strong economic base is required to bring stability and happiness into people's lives, and so with a desire to make a difference, Yu chose to seek employment at a Japanese securities company, and he has been accepted for employment next spring after graduation.
Message to prospective students
"At first you may not know immediately what you want to do or accomplish, but you will find out eventually. When you do, go for it and give it your all!"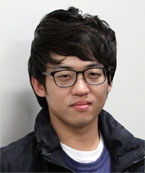 | | |
| --- | --- |
| Name | Kim Seok Ku |
| School | School of Commerce |
| Country | Seoul, South Korea |
Kim Seok Ku, from Seoul, South Korea, entered Meiji University after two years at a Japanese language school in Tokyo. He took two years off for South Korea's compulsory military service, and is currently in his second year of studies at the School of Commerce.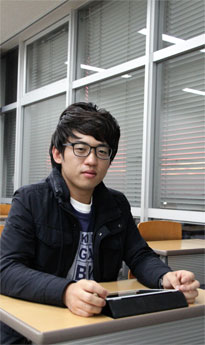 Reasons for choosing the School of Commerce at Meiji University
Kim chose the School of Commerce because he was interested in the Japanese financial system, which has a high savings rate compared to other countries. He chose the School of Commerce at Meiji University because seminars start in the second year, one year earlier than many other universities. Students can choose two of the following seven specialist courses: applied economics, marketing, finance and insurance, global business, management, accounting, and creative business. This flexible curriculum attracted Kim because it equips students with a broad knowledge of the society in which the markets function, and the know-how necessary to become specialists in a particular field. He was also attracted to the sophisticated urban campus that he saw when he came to Surugadai for the entrance examination, and was left in no doubt that Meiji University offers outstanding facilities.
The majority of exchange students from South Korea study in English-speaking countries. Why did Kim opt for Japan?
80% of Kim's friends who went on to study overseas went to English-speaking countries, but Kim chose Japan because he believes that having another language in addition to English will be good for his future career. Now that he is completely fluent in Japanese, he is working on his English.
Teaching mathematics at a Japanese language school and working in a convenience store
When Kim was in high school, he considered further study in the sciences. Now, he puts his talent in this area to good use by teaching mathematics to Korean students on the university preparatory course at a Japanese language school. He finds teaching students who are aiming to study at a Japanese university to be a fulfilling and worthwhile activity, as he was once in the same position. He also works part-time at a convenience store where he can meet people of all ages and backgrounds. Spending all one's time on the university campus provides only a narrow perspective on Japan, but working in the store gives Kim a chance to see the many aspects of Japanese society and culture.
Socializing with other Korean students at the Meiji University Korean Association
Around 500 students from South Korea study at Meiji University. Kim is an active member of the Meiji University Korean Association, which was established to provide friendship and mutual support among Korean students. The yearly schedule is packed with events, including sports days with Korean associations from other universities, and after the Great East Japan Earthquake Kim participated in a seminar on earthquakes, which aimed to raise awareness of disaster preparedness.
Message to prospective students
"At Meiji University, every student has the opportunity to maximize their potential. However, at such a large university, it is easy to just drift along with the crowd if you don't have a clear objective. I recommend you come to Meiji with a clear idea of what you want to do."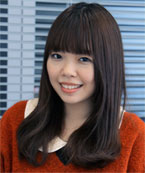 | | |
| --- | --- |
| Name | Yu Pei-Heng |
| School | School of Commerce |
| Country | Tainan City, Taiwan |
Yu Pei-Heng, from Tainan City, Taiwan, is a third year student at the School of Commerce. She learnt English at a 5-year junior college in Taiwan and after graduation had a strong desire to learn another foreign language. She chose Japan partly because of her parents' recommendation to do so, and partly because she had become familiar with the country through Japanese television soap operas. Before entering the School of Commerce in Meiji University, Yu spent a year and a half studying at a language school in Osaka. When she first came to Tokyo and saw the Liberty Tower at the Surugadai Campus, she was impressed by the university's modern and urban appearance, and decided that it was the kind of place where she would like to study.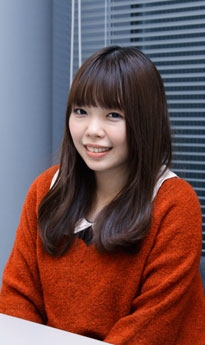 From English to Japanese
Yu studied English for five years at junior college, and during that time was lucky enough to study in New Zealand. She had the option of continuing to study English, but she was eager for a new challenge in completely different surroundings, and so decided to study Japanese. Although Japanese is taught at Taiwanese universities, Yu wanted to study the language in its native environment, and her parents encouraged her to do so. Some television stations in Taiwan broadcast Japanese programs and as Yu was used to watching these, it did not take her long to pick up the language. However, she did struggle with it when she started university. Some of the youthful vernacular of Japan's young people was not taught in the Japanese language school, and so she often had trouble understanding her fellow students. She overcame this by working up the courage to ask them what they meant whenever she encountered such words and phrases.
Internship experience
Yu was originally interested in mass media, particularly in the publishing and movie industries, and she chose the School of Commerce because she thought that studying business from the basic level would broaden her potential after graduation. Starting in her third year, Yu chose the marketing course and now attends the creative marketing seminars. This summer, while on an internship at a consulting company, Yu was put in charge of internet marketing. She was assigned the task of increasing the number of orders by driving traffic to a website, and made a variety of proposals involving Facebook, Twitter and other social media. While there was not a dramatic increase in numbers, the experience has given her the confidence she needs for when she starts out on her professional career, and she sees it as an asset. Yu would like to build on the experience she gained from the internship and find employment in marketing and planning. From this autumn, she will start the challenging process of searching for a job.
Friends from overseas and Japan
Three years have passed since Yu came to Tokyo, but in her vacation time she still meets up with the friends that she made during her initial period of study at language school in Osaka, and they go on trips to Hiroshima and other places. She has also taken two Japanese friends from her seminars to Taiwan. She was delighted when her Japanese friends enjoyed their time in her country, and says that the best thing about coming to Japan was being able to meet many people through studying Japanese.
Message to prospective students
"In the spirit of the university slogan empowerment of the individual, many students here place importance on the individual rather than blind devotion to "the group", and I aspire to be such a student. The faculty and students are all very kind, and we all interact well with each other. The International Student Exchange Office and the graduate student teaching assistant system foster an environment where overseas students can discuss their worries and problems easily. I believe that choosing Meiji was definitely the right thing to do. It is a university that really cares about its overseas students."