The increasingly complex issues of modern society - solutions cannot be found without the study of law.
The situation surrounding the "law" is constantly changing. The study of law is a living academic field that is closely connected to modern society. The School of Law offers five courses that allow not only students who are aiming to succeed in the legal profession, but also other students, to expand their range of life choices as they envision their future.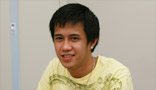 Mr. Chome Jonel C.
Manila, Republic of the Philippines
Department of Law, School of Law
Q. Why did you choose Japan and Meiji University?
I was familiar with Japan from childhood as my parents have worked in Japan. I came to Japan about 5 years ago, and started studying Japanese at a language school then. I found it interesting to study Japanese and hoped to get to know more about Japan. As I got used to living in Japan, I noticed Japanese people act in orderly manners. They keep the law and rules in great details. Then I came to be interested in Japanese law.
There are several reasons why I chose Meiji University. First, my impression of Meiji University was that it is strong in study of law. Then, the university was highly regarded by teachers in the language school where I went to. Also, it is another attractive point of Meiji University that I can take other Schools' classes besides ones of School I belong to. I can acquire wide knowledge at a university. Professors of the university are enthusiastic about teaching, and classmates are pleasant and have a great desire to learn. I enjoy the campus life very much.