Learning deeply about people's hearts and minds and the modalities of society to improve the human qualities of each person
At the School of Arts and Letters, students acquire a solid education and deep specialized knowledge based on "words," to nurture "individualism" that will be accepted in society. The target of research is human behavior and history centered on "words," such as Japanese and foreign literature, culture, language, geography, society, and psychology. The School of Arts and Letters offers 13 courses specializing in each field.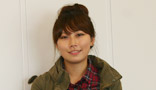 Ms. Hong Jihye
Soul, South Korea
Japanese Literature course, Department of Literature, School of Arts and Letters,
Q. Why did you choose Japan and Meiji?
When I was a high school student, I came to Japan to study for a week and stayed with a Japanese family. I was very attracted to the sound of Japanese language, the culture, and the warmth of the people then. This experience made my interest to study in Japan for a long term stronger. After I studied at Japanese language school in Japan for one year, I entered Meiji University. In School of Arts and Letters, where I belong to, there are classes of seminar style that students can take from the first year. That is the main reason why I chose Meiji University.