Learning deeply about people's hearts and minds and the modalities of society to improve the human qualities of each person
At the School of Arts and Letters, students acquire a solid education and deep specialized knowledge based on "words," to nurture "individualism" that will be accepted in society. The target of research is human behavior and history centered on "words," such as Japanese and foreign literature, culture, language, geography, society, and psychology. The School of Arts and Letters offers 13 courses specializing in each field.
Differences in studies of sociology at the School of Arts and Letters, the School of Information and Communication, and the School of Global Japanese Studies
Sociology is the study of the relationships between individuals, following an empirical approach conducted through field work. Sociology has diverse contents and methods of study.
The School of Arts and Letters (The Contemporary Sociology Course at the Department of Psycho-social Studies) offers an analytical perspective on various issues for modern society, such as community, family, children, environment, and coexistence, from the viewpoints of sociology and psychology, and considers the modalities of a new society from the standpoint of social practice such as civic activities.
The School of Information and Communication (The Social System and Public Course) addresses the various issues of modern society from various facets based on the keyword of information.
The School of Global Japanese Studies (The Japanese Social Systems Course) focuses its attention on transmission hubs of Japanese culture, which is attracting global attention, and seeks to explain their situations from a variety of perspectives at the corporate, industrial, and social levels.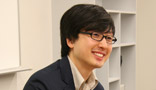 Mr. An Hyochul
Soul, South Korea
Department of Psycho-Social Studies, School of Arts and Letters
Q. Why did you choose Japan to study?
I was interested in Japanese games and movies. I studied Japanese as the second foreign language when I was a high school student. I had graduated a university in South Korea, but I wanted to learn Japanese more and was thinking to find a job making use of my Japanese skill in future. So I decided to come to Japan to study.
Q. Why did you choose Meiji University?
The college of language I had commuted before I entered Meiji University was close to the Surugadai Campus. I had admired the atmosphere of the Academy Common on the campus along the way to the college. That was the start of my interest in Meiji University. I joined the campus tour and learn about the university. The decisive factors when I chose Meiji University were that it had School with a department related with psychology, and that it had Center for Clinical Psychology where enables me to have a great chance to develop my ability to be a clinical psychologist. Also, people around me say Meiji University is a good university. I'm very glad to attend the same university that the movie director Takeshi Kitano, who I respect, graduated.