Nov. 12, 2010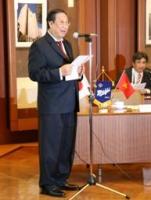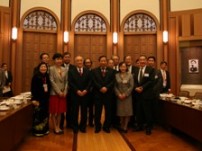 On November 12, Dialogue among Vietnamese and Japanese Universities was held in Kishimoto Tatsuo Memorial Hall on the 23rd floor of the Liberty Tower on the Surugadai campus.

The event was held to further promote exchanges between Japanese and Vietnamese universities, on the occasion of the visit to Japan by major Vietnamese university presidents who accompanied the President of Vietnam Nguyen Minh Triet attending the APEC summit.

From Vietnam, Mr. Pham Gia Khiem, Deputy Prime Minister and Foreign Minister and nine universities including Ho Chi Minh city University of Industry, Hung Vuong University and Hanoi Architectural University, and from Japan, eight universities including Meiji University, the University of Tokyo, Sophia University and Ritsumeikan Universit of 13 universities, members of the Global 30 Project which aims to further promote the globalization of Japanese higher education supported by the Ministry of Education, Culture, Sports, Science and Technology.

The event opened with welcome remark by Hiromi Naya, President of Meiji University, and then the keynote lecture entitled "Higher education reforms in Japan in response to globalization" by Mr. Naoki Himiya, Director of the Higher Education Bureau of the Ministry of Education, Culture, Sports, Science and Technology was made. After brief introductions of the participating Japanese and Vietnamese universities, an active exchange of opinions took place regarding the initiatives being undertaken by each university to achieve internationalization.