Jul. 30, 2015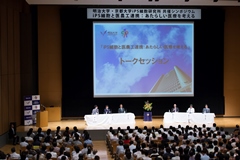 During the talk session, when many questions were asked by the audience.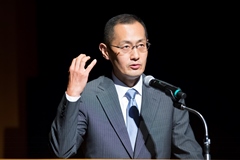 Professor Shinya Yamanaka
(Kyoto University)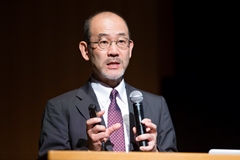 Professor Hiroshi Nagashima
(Meiji University)
On July 26, a symposium titled "iPS Cells and Partnership among Medicine, Agriculture, and Industry – Perspectives on New Medicine" was held at Academy Hall on the Surugadai Campus of Meiji University. It was co-hosted by Meiji University and the Center for iPS Cell Research and Application of Kyoto University.

The first half of the symposium consisted of lectures on research into intractable diseases using laboratory animals, regenerative medicine, and transplantation medicine by Professor Hiroshi Nagashima (School of Agriculture), Professor Mamoru Aizawa (School of School of Science and Technology), and Professor Masaki Nagaya (Specially Appointed Professor, Organization for the Strategic Coordination of Research and Intellectual Properties) of Meiji University. After a short break, Professor Shinya Yamanaka and Professor Jun Yamashita of Kyoto University spoke on new medicine utilizing iPS cells and research aimed at drug development.

This was followed by a talk session, in which the five panelists replied to questions from the audience. The session was moderated by Mr. Taichi Masu, a newscaster for Nippon Television Network Corporation. The questions from the audience concerned matters such as medical advances and the implications for life expectancy, perspectives on longevity, and personal mottos supporting research activities. The panelists replied to the questions gently in plain language.

Lastly, closing remarks on behalf of the panelists were delivered by Professor Yamanaka, who commented: "I think the development of new technology is accompanied by various new problems. No technology can be termed 100% good in my view.It is vital for us researchers to have opportunities like this to talk with all of you and promote mutual understanding instead of engaging in one-way communication." The audience gave the panelists a warm round of applause.