Meiji University Meiji High School and Meiji Junior High School
History and Characteristics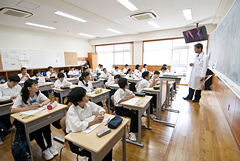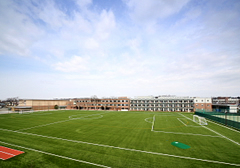 The schools were founded in April 1912 as the Meiji University Junior High School under the old system. These schools, the only affiliate schools Meiji University set up in over 90 years, strive to develop students who will form the core of Meiji University.

The first principal was Fusaaki Uzawa, a Director of Meiji University with a doctorate in law. The schools' principles and traditions were created through the passion, insight, and character of Uzawa, and carefully passing on the spirit of "strong, sturdy and honest". Nearly all of the graduates take advantage of the possibility of being recommended to their desired academic department in Meiji University. Thus education is being unified over the ten years of junior high school, high school and university, such as by recognizing completed courses through high-school and university tie-ups and other efforts while students are still in school.

From April 2008, with the main purpose of taking over and developing regular education policies for boys, the schools made a new start as co-ed schools. At the same time, the schools have decided to move to the Chofu region of the Tama area in Tokyo, for which expectations are high.


Education Policies
As a way of modernizing the "strong, sturdy and honest" principles that were the first school principal's education policy, the basic policy has been changed to developing true "strength to live" once out in society. The schools' education policy has the following six major characteristics.
1. Development of students that will form the core of Meiji University
2. Passing down the spirit of the school motto, "strong, sturdy and honest"
3. Engaging in thorough education of the schools themselves as a focus of investigative learning
4. Development of people with basic humanity
5. Realizing education that balances intellectual, moral and physical education
6. Guidance based on a close collaboration between the school and parents and guardians
・Address
182-0033
4-23-25 Fujimi-cho,
Chofu-city, Tokyo
・TEL
042-444-9100
・FAX
042-498-7800
・E-mail
ko_chu@mics.meiji.ac.jp
・URL
http://www.meiji.ac.jp/ko_chu/


Meiji Nakano High School and Junior High School
History and Characteristics
The Meiji Nakano Junior High School, the forerunner of the current schools, was established in 1929 by Tokuharu Miki at its present location in Higashi-Nakano, Nakano-ku, with the aim of fostering capable students "for society" and "for humanity" based on the school's guiding principles "austerity and sturdiness" and "cooperation and self-government". Conveniently located just five minutes away from Shinjuku, a sub-center of Tokyo, the site of the schools used to be known as "Sakurayama" (Cherry Blossom Hill) in the olden days as it was a scenic spot for enjoying cherry blossoms. Even today, springtime is a showcase of cherry blossoms in full bloom along the school route, much to the delight of passersby.

The existence of the school was jeopardized in 1945 when all facilities were destroyed by air raids on Tokyo near the close of the Pacific War. However staff members, parents, and graduates united in their efforts to rebuild the school and form the foundation of the schools' progress today. This foundation continues to be handed down through generations as tradition, and the enthusiastic PTA activities today serve as an irreplaceable treasure of the schools.

In 1949 the schools were granted affiliated status by Meiji University, which marked the beginning of a period of rapid progress continued today. With graduates now exceeding 30,000 amongst whom are prominent figures in various circles, the schools celebrated their 80th anniversary of establishment in 2009.


Education Policies
The schools strive to provide education that allows each student to develop a sound body through enthusiastic efforts in study and club activities, as appropriate for a boys' school, according to the schools' original guiding principles.
Giving importance to the three years of junior high school as the "stage for nurturing the power to live", the school aims to have its students acquire "basic living habits". Taking the three years of high school as the "stage of self-discovery", the school guides students so that they work hard with their schoolmates and are able to select the most suited options after graduation through dedicated career counseling from a wide perspective including alternatives to entering universities.
The Meiji Nakano High School and the Junior High School are committed to fostering students who will form the core of Meiji University, aiming at consistent education during the six years at school, and by extension, the ten years including university, during which students can fully develop their individuality through unconstrained ideas.
・Address
164-0003
3-3-4 Higashi-Nakano,
Nakano-ku, Tokyo
・TEL
03-3362-8704
・FAX
03-3368-3113
・E-mail
web-info@NakanoGakuen.ac.jp
・URL
http://www.NakanoGakuen.ac.jp/


Meiji Nakano Hachioji High School and Junior High School
History and Characteristics
The Meiji Nakano Hachioji High School and Junior High School were established in April 1984 as co-institutional sister schools of the Meiji Nakano Schools under a separate education system for boys and girls in Tobuki-machi, Hachioji, Tokyo. The new schools are located in an ideal educational environment on an immense fifty-seven-acre site surrounded by nature, including a baseball field, a 400m race track, 50m and 25m swimming pools, a tennis court with an all-weather omni-coat, a gym with two basketball courts and special classrooms with labs and lecture amphitheaters for physics and chemistry and labs also for biology, and music, art, home economics, needlework, technology, computer, audio-visual rooms and more for both the junior high school and high school, and an auditorium in which all students of the six grades of junior high and high school can gather together. To meet the needs of the times, the schools became co-educational in 1994, making them the only junior high and high schools affiliated with Meiji University involved in the education of girls.


Education Policies
The phrases "austerity and sturdiness" and "cooperation and self-government", precepts indicative of the schools' basic educational policy, are sincerely developed as "abilities to learn on one's own" and "abilities to live together". The schools aim to expand the unconstrained emotional individuality of their students based on austere humanism, a spirit of cooperation, and their characteristics as affiliated institutions. Academically, the schools aim to provide educational guidance that matches each student's increasingly diverse desired course of study, through two separate courses - Humanities and Sciences - in the second-year of high school, each with its original curriculum, and focusing on English conversation. As affiliated schools, the schools strive to nurture students with a broad outlook, through special preparatory courses for entrance into university, open classes and tours to various departments, and club and committee activities.
・Address
192-0001
1100 Tobuki-machi,
Hachioji-shi, Tokyo
・TEL
042-691-0321
・FAX
042-691-0988
・E-mail
meihachi@mnh.ed.jp
・URL
http://www.mnh.ed.jp/