Signing Ceremony with Katholieke Universiteit Leuven Held in the Presence of HRH Prince Philippe of Belgium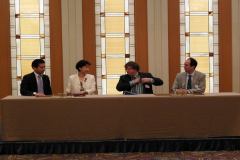 The signing ceremony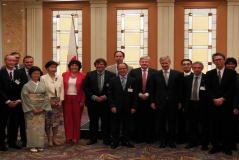 Commemorative photograph taken with the HRH Prince Philippe (front row third from the right is Prince Philippe, third from the left is Vice President Katsu)
On June 11, 2012, Meiji University concluded an inter-university cooperation agreement with Katholieke Universiteit Leuven of Belgium. Katholieke Universiteit Leuven is the first university in Belgium to become a Meiji University partner university.

On June 11, before a reception held at Hotel Okura in honor of the visit to Japan by their Royal Highnesses Prince Philippe and Princess Mathilde, signing ceremonies for agreements mainly between companies in Japan and Belgium were held. For the inter-university cooperation agreement, Vice President Etsuko Katsu in charge of international exchanges, Vice Director Masao Kikuchi of the International Student Center, and others represented the President of Meiji University to sign the agreement.

Katholieke Universiteit Leuven was established in 1425 and is the oldest existing Catholic university in the world. It is also one of Belgium's most distinguished universities today. It is located on the outskirts of Brussels, where the EU headquarters are situated. The university is highly regarded in Europe for its cosmopolitan education conducted in English, and it actively carries out many Erasmus programme exchanges.