2017 New Year's Greetings from the Chairman of the Board of Trustees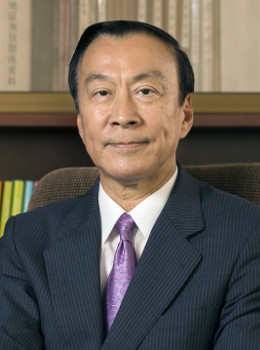 Takashi Yanagiya
Chairman, Board of Trustees, Meiji University

To support an environment for education and research



As we enter the New Year, I would like to send my greetings to all of you.

Last year, it was announced that, for the first time since Japan began to conduct its national census, the total population had gone into decline against the background of progressive population aging. In the world as a whole, on the other hand, the population has exceeded 7 billion and continues to increase, fueling apprehensions about shortages of food as well as depletion of energy and water resources due to the population explosion. We must transcend differences of nation and race, pool our wisdom, and take approaches to harmonize humankind with the global environment.
Faced with this global environment, we must constantly anticipate the changes in the times and needs of society, and discover value that befits the new age. It is imperative for us to nurture the growth of human resources that have the resolute mettle that is distinctive to Meiji University and will enable them to carve out a way for themselves with the spirit of moving ever forward. As I see it, this is precisely the mission demanded of Meiji University, whose founding principles are "Rights and liberty" and "Independence and self-government."
To fulfill this mission, it is indispensable for us to ensure prospects for financing and establish a stable financial foundation while further improving the environment for education and research. The Board of Trustees has determined a revision of tuition with the understanding of all concerned and is also moving ahead with expanding admission quotas. These steps will help to effect improvement for the time being. In addition to steady repair and renovation of deteriorating facilities and equipment, nevertheless, we must resolve issues related to environmental conditioning and heighten the presence of Meiji University. To these ends as well, it is going to be important for us to continue coordinating plans for financing and those for facilities.
This academic year is the final year of Phase 1 of our Medium-Term Plan, which sets forth specific measures for the Meiji University Long-term Vision whose aim is "a university that will be an international hub for fostering internationally-minded individuals and international exchanges, and realize education and research that nurture strong and bright individuals who will succeed on a global scale." At this juncture, we will formulate Phase 2 of the Medium-Term Plan, which will look ahead to the coming 140th anniversary of our founding and be attuned to the new age.
I might add that we are striving to provide solid support for the environment of research and education and to help Meiji University rank among the top universities worldwide. For this purpose, too, we shall work for further advancement by taking an overview of the entire university, discerning the proper order of priorities, and making allocations of management resources in accordance with these priorities. Meiji University is committed to being a university that empowers the individual by promoting education and research activities. We are determined to do our utmost to see that Meiji University shows even more clearly to all that it is a university which is highly rated and full of appeal, and to win even more understanding from all Meiji University stakeholders while widening its circle of support.
I would like to conclude my remarks by asking for your continued understanding of and support for Meiji University once again this year as well as offering my heartfelt wishes that 2017 will be a fruitful year for all.

Takashi Yanagiya
Chairman, Board of Trustees, Meiji University