The First in Japan: Technology for Producing Fermentation-Aged Meat "Aging Sheet" Developed by Associate Professor Murakami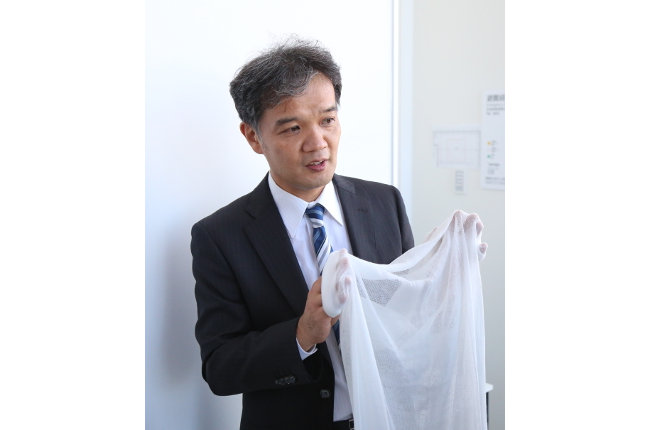 Associate Professor Murakami explaining of the Aging Sheet
Full-fledged marketing starts in this autumn
Shuichiro Murakami, Associate Professor at the School of Agriculture (Laboratory of Microbial Chemistry), who has launched a collaborative research into dry-aged meat production with Foodism Co. Ltd. as an industrial-academic cooperation project, recently succeeded in the development of Aging Sheet (patent pending). It is Japan's first technology for producing fermentation-aged meat in a short time with a good quality stability.
Together with Mikio Atobe, Representative Director of Foodism, Murakami established Meat Epoch Co. Ltd. (Representative: Mikio Atobe, headquarters: Kawasaki City, Kanagawa Prefecture), a venture firm within the Center for Collaborative Innovation and Incubation, located on the Ikuta Campus. Born of Meiji University, Meat Epoch intends to make stable production of Aging Sheet for sale and promotion.
Aging Sheet is made by affixing the harmless-to-human spores, which are harvested from purely cultured mold and can be used to age meat, to a sterilized sheet of cloth. Before this new technology is available, the production of dry-aged meat required a considerably long time: about one year for preparing an aging space equipped with a suitable environment, and approximately 100 more days there for actual aging process. Besides, the process involved the risk of deterioration and decay. Once the meat is wrapped in the Aging Sheet, however, the mold working inside for the aging process quickly proliferate, which helps prevent rotting and accelerate maturation. This makes possible the stable production of fermentation-aged meat in a very short time. Now there are plans starting in this autumn for a full-fledged promotion in the meat industry.
On September 21, 2017, the press conference on Aging Sheet was held at Global Front on the Surugadai Campus. Murakami, Atobe, and Keiichiro Tsuchiya, President of Meiji University, were there joined by Osamu Shiseki, President of First Kitchen Co. Ltd., and Tadashi Aoyama, President of Central Nippon Exis Company. The two presidents were from the companies supporting the industry-university complex by offering new products derived from the new meat.
Explaining about the technology of Aging Sheet, Murakami voiced his hopes for future developments of the technology. "We filed a patent application in 2016 and are now following the required procedures. Securing the intellectual property rights, we intend to collaborate with companies, not only in Japan but overseas also, and expand sales of products derived from our Aging-Sheet technology."
In order to make visible and clear the difference from other aged meats and thus to make the brand gain publicity, the team intends to have the retailers handling the Aging-Sheet technology meat display certificate stickers of the fermentation-aged meat dealers.
[Inquiries]
Public Relations Office, Meiji University
Email: koho@mics.meiji.ac.jp