A first year education program using an NHK documentary was implemented.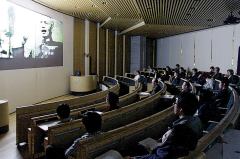 The participants seriously watching the documentary
In Anticipation of the 70th Anniversary of the War - War & Peace-
The Meiji University Education Development & Support Center held a first year education program at Izumi Library Hall during November 13 through 19 entitled "In Anticipation Of The 70th Anniversary Of The War - War & Peace" using an NHK documentary.
This program was planned in an effort to provide the students an opportunity to learn modern history through the historical "images" in anticipation of the 70th anniversary of the war which will come in two years. The documentary that had been broadcast on NHK was successively shown as many as 5 times.The producer of the program gave a lecture each time following the screening, as well as presenting an exhibition of books related to the program at the gallery adjacent to the event hall.