My Experiences on the Short-term Study Abroad Program
Keitaro Kajihara
Department of Electronics and Bioinformatics (enrolled 2008)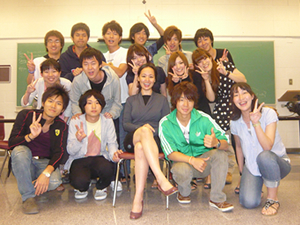 Keitaro Kajihara is on the far left of the
front row.
In the summer of 2010, I participated in the short-term language training program at York University.
Being exposed to Canada's abundant nature, walking the beautiful city streets, and having discussions with other international students were all very stimulating experiences for me.
This opportunity has given me English language skills, knowledge of Canada's wonderful culture, the richness and sharpness of Canadian beer, pride in being Japanese, bonds of friendship, great ambitions, and countless other benefits.
I am very grateful to Meiji University for providing me with this chance and challenge, and I intend to utilize this opportunity to soar into the world.