Right after the Great East Japan Earthquake, students said, "We want to go to the disaster areas." My area of expertise is architecture, urban planning, and safety science, so I thought that I had to do something to help. However, I told the students that we should first gather information.
On April 1, a researcher friend of mine who specializes in civil engineering contacted me to say that after getting in touch with people in Rikuzentakata, they requested advice from university researchers. Around the same time, I also heard from a friend with whom I used to work at an urban planning consultant company that expert knowledge was needed in Rikuzentakata.
However, even an expert cannot handle a disaster on the scale of the Great East Japan Earthquake alone. I thought that we needed an organized effort, and assembled a team of experts from as many fields as possible, centered around members of a team that was created for the Great Hanshin Awaji Earthquake. We arrived in Rikuzentakata on April 17.
Upon arriving there, the first thing the local people said to us was, "We don't need pseudo researchers and pseudo consultants." This was a powerful blow. There were three episodes in the background of these words.
First, the local people have had the bitter experience of being ripped off by these sorts of people over resort development. Second, many people lost their lives by evacuating in accordance with a manual created after the Great Hanshin Awaji Earthquake. In this manual which ignored the traditional wisdom of splitting up and evacuating to higher ground, there were places such as public gymnasiums only 2 meters above sea level designated as provisional evacuation sites. Furthermore, while this is something that must be looked into, there was a sense of doubt toward putting too much faith in technology, as a huge floodgate built at the mouth of a river did not close, resulting in levees being destroyed and rendered completely useless.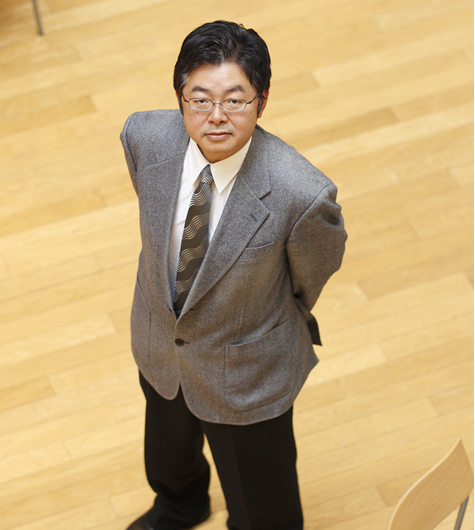 Researchers in the fields of architecture or urban planning tend to think of reconstruction in terms of physical infrastructure, such as buildings, but that is a 20th century-style of reconstruction. In reconstruction for this earthquake, I thought that we needed to provide expert support for restoring daily living, drawing on the feelings and needs of the disaster victims. Long-term support for the human aspect as well as back office support would be necessary.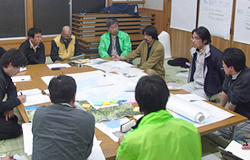 Therefore we held the "Workshop for Developing a Grand Design," inviting local people involved in fisheries, trade, and industry, as well as PTA officials, for discussion. During the workshop, the necessity of creating a local organization as a receptacle to conduct effective back office support was highlighted. So on May 5, the non-profit organization, Rikuzentakata Sosei Furusato Kaigi (Rikuzentakata council for rebuilding the home town), was established. The council serves as a pipeline between local small and medium enterprise associations, temporary housing residents' associations, junior chamber, PTA alliances, etc., and outside support organizations.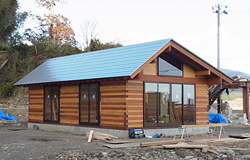 The first request Meiji University received from this NPO was a request to conduct a questionnaire survey targeting disaster victims. The survey results would be used as scientific evidence and to formulate reconstruction plans. As a result of the questionnaire survey, we found that many people wanted to relocate to higher ground, thought that the levees were alright at their current height of 5.5 meters, and wanted to restore the Takata Matsubara pine tree woods.
Furthermore, there are currently disaster victims living in temporary housing in different areas. Therefore, the council built an assembly house called the "Small House of Building Blocks" in Imaizumi, Kesen Town as a place for the local people to gather and discuss what to do with their community. It is a building constructed of block-type laminated lumber from forest thinning in Rikuzentakata. Rikuzentakata is also the birthplace of the famed and highly skilled Kesen carpenters, and the assembly house was built using their skills. It was a project symbolic of the process of local people using local materials and local skills to create something new with their own hands.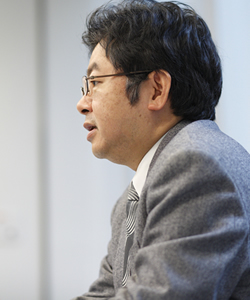 In addition to Meiji University's research funding for the Tohoku Rehabilitation Support Platform, the council has received grant aid from the Organization for Promoting Urban Development. Currently, we are starting to provide back office support so that people living in temporary housing can relocate to proper housing as soon as possible and to restore disaster victims' daily lives to normal. In the summer, we visited more than fifty temporary housing complexes in the city to conduct a survey, in cooperation with other universities. We are holding consultations with several settlements that are considering relocation to higher ground, and providing technical support. We also create and provide three dimensional topographical maps of each settlement to facilitate smooth discussion among local residents.
There is talk of constructing an ostentatious, large-scale facility for renewable energy, but in principle, the local people just want to go back to their old lives. I believe that the roles of universities are not to provide the type of support that introduces new things one after another, but rather, to provide knowledge, such as on how to create a questionnaire, draw a map, keep minutes, or on methodologies for identifying tasks.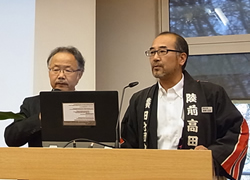 I also believe that it is important to engage in storytelling activities to communicate the situation at disaster-areas nationwide, in addition to expert support in disaster areas. In April, we held a symposium on reconstruction support needs in disaster areas, to which three fire fighters from Rikuzentakata were invited. The symposium attracted more than 250 people and there was a huge response. In July, we held another symposium attracting 300 people in Sakai City, Osaka. There, we again invited people from Rikuzentakata to talk about their hopes for reconstruction. In November, I was invited to speak at the University of Hamburg in Germany. I invited three Rikuzentakata citizens to accompany me so that they could talk about the situation of the disaster areas.
This was for the purpose of conveying to as many people as possible a situation that cannot be conveyed by the media, but it also served the desires of disaster victims to convey the situation through their own words. I think that it is the strength of universities to be able to provide such back office support.


Toshiya Yamamoto

| | |
| --- | --- |
| Department/ School | Professor, Department of Architecture, School of Science and Technology |
| Bio | came to Meiji University in 2005 after working at the MANU Institute for Urban Design and Architecture |
| Degree | Master of Architecture, Chiba University; Doctor of Philosophy, Meiji University |
| Research themes | Architecture / Urban Planning / Safety Science (urban disaster prevention and crime prevention) |