Top > Events > International Research Collaboration Conference (Massey University)
International Research Collaboration Conference (Massey University)
November 20, 2012
Overview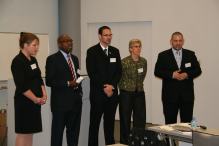 Following a highly successful conference with Lancaster University in June, a second conference was hosted at Meiji in collaboration with the School of Management at Massey University in New Zealand on the 20th November, 2012. This event concluded an extremely busy, but satisfying year for GSBA which reinforced the international initiatives that have been taking place since 2009.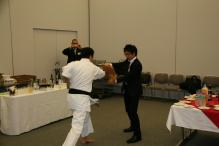 Following a similar structure to the past conferences held with Cardiff University and Lancaster University, and once more taking place in the Academy Common Conference Center, lecturers and students from Massey University were joined by a number of students from GSBA who presented on their current, past and future research. In addition, the participants and spectators were treated to a traditional Maori song by the guests from New Zealand. In return, a Professor of GSBA gave a Karate demonstration.
The event with Massey University has helped to establish an important link with another presitgious institution of the English speaking world and it is hoped that GSBA wil be able to build upon this promising start to the new relationship.