As of May 2012, there were approximately 30 international students from U.K., Italy, Austria, Switzerland, Sweden, Serbia, Germany, Hungary, France, Bulgaria and Russia, studying at Meiji.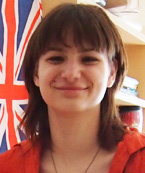 Name
Zsuzsanna Karap
School
School of Global Japanese Studies
Exchange student from EÖTVÖS LORÀND UNIVERSITY
Country
Hungary
Zsuzsanna Karap, an exchange student from Hungary, is studying Cross Cultural Education and Japanese at the School of Global Japanese Studies on a scholarship from the Ministry of Education, Culture, Sports, Science and Technology.
Reasons for choosing to study at Meiji
Zsuzsanna was drawn to the beautiful sound of the Japanese language as a high school student and also became interested in Japanese culture. Several years ago, she found a pamphlet for Meiji University at the office of the Nippon Foundation in Budapest. She was immediately attracted to photos of the Meiji University campus with its modern buildings and the cityscape of Tokyo. She liked the photos so much that she took the pamphlet home and posted it on her refrigerator.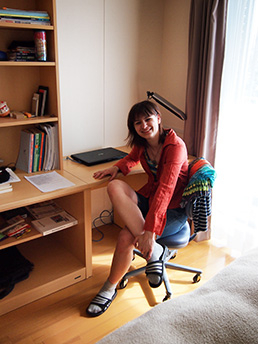 Since that time, it had been a dream for Zsuzsanna to study at Meiji University. However, compared to studying in her home country of Hungary, where university tuition was free, studying in Japan was expensive and this was a huge hurdle for Zsuzsanna to go to Meiji University. It was at such a time that she learned about the acceptance of scholarship students for an exchange program on the English track of the School of Global Japanese Studies. Zsuzsanna applied for a scholarship and after a selection process that included document screening and a telephone interview, she was able to achieve her dream of studying at Meiji University. Zsuzsanna says, eyes shining, that she still remembers her joy at hearing of her acceptance.
What do you think is good about Japanese culture?
The politeness seen through bowing, etc., when people ask favors from someone or express their gratitude; how sometimes people do not clearly say what they are thinking – these are distinct and good aspects of Japanese culture, she says.
For example, say a friend invited you to go to a movie at the weekend. Even if they do not have plans, Japanese people will often say "I'm sorry. I have plans that day," if they are not interested in the movie. However, in Zsuzsanna's home country of Hungary, if they do not want to go, they would say clearly, "I'm not interested in that movie, so I won't go." The Japanese way of turning someone down perhaps expresses their regret that they will not go with their friend in spite of their invitation. However, communication between Hungarians does not have this sort of exchange of feelings, so it might confuse people. However, Zsuzsanna says that she likes this Japanese way of communication.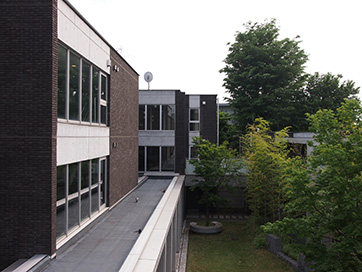 The Meiji University environment where you can make lots of Japanese friends
Currently, Zsuzsanna resides in the Izumi International House, a dormitory where mainly exchange students live. Communication between international students is mainly in English, but at university, Zsuzsanna has many classes in which she is the only non-Japanese student. She is also in an environment where she can improve her Japanese skills through university club activities, etc., so there are many opportunities to make Japanese friends.
What cultural shocks did you experience coming to Japan?
Zsuzsanna says she was surprised at how people share food at izakaya, Japanese-style pubs. In Hungary, people order what they want to eat themselves and there is no tradition of sharing with others, so this came as a surprise at first, but now she says it is nice to be able to try several dishes at one meal and she feels that sharing meals has brought her closer to her friends.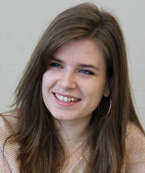 Name
Kalina Konova
School
School of Commerce
Exchange Student from Cardiff University
Country
Plovdiv, Bulgaria
Kalina Konova, a Bulgarian student on exchange from Cardiff University in the UK, is currently studying international business and leisure business at the School of Commerce.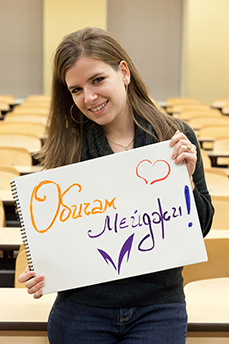 Reasons for choosing Meiji University
Kalina, who had been interested in the Japanese language and culture from before, had the dream of coming to study in Japan one day and went to Cardiff University, which had an exchange program with Japan.
In choosing her destination to study in Japan, Kalina researched many universities on the internet and through pamphlets and was drawn to the appealing location of Meiji University, the beauty of its campuses, and the fact that it was a popular university with the highest number of applicants in Japan. She therefore included Meiji University as one of her candidate schools. Later, Kalina had the opportunity to talk to a senior student who had actually studied at Meiji University and decided on Meiji University as her destination. Upon arriving in Japan and seeing the Liberty Tower at the Surugadai Campus, she was moved by how much more beautiful it was than in the pamphlet.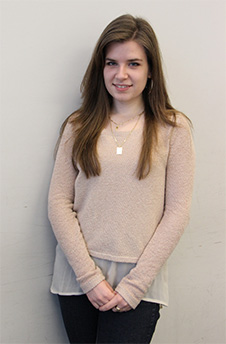 What she likes about living in Japan
Kalina really likes Japanese cuisine. There are Japanese restaurants in Bulgaria as well, but she says the food tastes different from the food she has in Japan. In particular, she was really surprised at how delicious ramen was the first time she had it in Japan. Kalina is enjoying her culinary life in Japan, cooking Japanese food at home and making takoyaki for international exchange events; however, she is a little disappointed that she cannot have banitza, a symbol of Bulgarian cuisine (a traditional Bulgarian pastry dish prepared by layering a mixture of whisked eggs and pieces of cheese between filo pastry and then baking it in an oven), in Japan.
The Izumi International House where you can make friends from all over the world
Kalina resides in the Izumi International House, a dormitory for exchange students. The Izumi International House is home to exchange students from all around the world. Because of this, Kalina has made many non-Japanese friends as well. She hopes to visit the homes of friends living in Asian countries such as Taiwan and Korea – easily accessible from Japan – before completing her exchange program and returning to UK.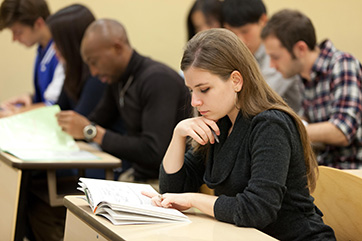 How did she learn Japanese?
Kalina studied Japanese before coming to Japan, but upon actually coming to Japan and trying to use Japanese, she found the language more complex that she had originally thought, given the distinctions in keigo or honorific expression, or between male and female speech. After coming to Japan, Kalina has been actively making opportunities to talk to her Japanese friends and reading Japanese manga to study the language. One thing she says she realized in studying Japanese was that learning not only the Japanese language, but the culture at the same time as well enables people to understand how to use the appropriate language on different occasions and how to express themselves. To students coming to Japan to study in the future, she recommends learning about Japanese culture while learning the language because it would be extremely beneficial to their student life.