Business is constantly changing. We nurture business professionals who can succeed at the forefront of business.
The School of Commerce is where students can learn comprehensively, and from various perspectives, about the market mechanisms that support our lives. The curriculum is divided into seven specialized courses so students can learn broadly about the market and the social environment surrounding it, and then go on to acquire the knowledge to become market specialists in specific fields.
Differences in studies of Economics at the School of Political Science and Economics, the School of Commerce, and the School of Agriculture
The study of economics aims to theoretically explain economic phenomena, while the study of commerce aims for a cross-disciplinary analysis of economic activities and social and institutional phenomena.
Therefore, the study of economics at the School of Political Science and Economics aims to provide a theoretical explanation of economic phenomena themselves, while the School of Commerce aims to provide knowledge about the actual situations of and theories on commercial activities, such as distribution, transport, trade, finance, insurance, and accounting, of economic entities. The School of Agriculture aims to equip students with knowledge of economics for the purpose of comprehensive observation of food and environmental issues from the aspects of policy science, social science, and international development.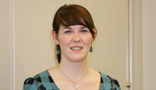 Ms. Juliane Baedelt
Berlin, Germany
School of Commerce, exchange student from University of Applied Science Bremen
Why did you choose Meiji University?
The university I belong to in Germany has Exchange Programs with 7 universities in Japan. Meiji University is one of them, but the only university that allow exchange students to take Japanese-taught programs as same as Japanese students. It is a great advantage that I can take the same classes with Japanese students. Of course, the fact that the university is located in Japan was the main reason to choose, but in addition, that was a significant point.
I enjoy studying in Meiji University. Especially, I am interested in environmental issues, and the university has various classes to study that kind of issue from both logical and practical viewpoint. I learn new things everyday.