We nurture global individuals that can transmit the allure of their country to the world.
The School of Global Japanese Studies aims to nurture individuals who can contribute to the international community in the 21st century through learning along with many international students from all over the world about Japanese cultures and social structures that have attracted the world's attention (from pop culture such as manga, anime, and movies, to traditional arts such as martial arts and performing arts in modern times).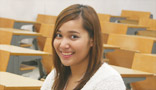 Ms. Harlene Obcemea Tupaz
Manila, Philippines
School of Global Japanese Studies
Q. Why did you choose Japan and Meiji University?
My parents are very fond of Japan. I had visited Japan several times since I was a child. Supported by my parents, I began to study Japanese at a language school for two years after graduated a high school, and I passed the entrance exam for foreign students of Meiji University. I got to know about Meiji University by a teacher at the language school first. I chose Meiji University because I heard that it had many English-taught classes. There really are many English-speaking professors in Meiji University, and I think the qualities of the classes are very high.