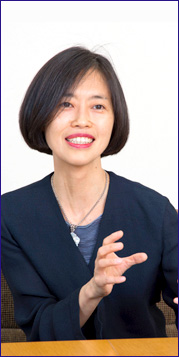 I specialize in the study of the constitutional law. The Constitution of Japan was born at a time when the rules of international society were undergoing major changes and thus became interconnected with such changes in the world. Concerning human rights, which is the fundamental topic of the Constitution, problems have been taken care of only domestically, but issues of human rights came to be recognized as global-scale problems following the birth of new rules after World War II as a result reflection on large-scale human rights violations committed during the conflict.
Starting with the Universal Declaration of Human Rights, numerous human rights treaties were created including the International Covenant on Civil and Political Rights, the International Covenant on Economic, Social and Cultural Rights, the Convention Eliminating All Forms of Discrimination Against Women and so forth. Both the Constitution and these treaties share the goal of guaranteeing human rights, and it was thought that great effectiveness could be achieved if both were united closely. As my topic of research, I am pursuing "a multi-layered mechanism related to guaranteeing of human rights" that unites the Constitution with human rights treaties.
Collaborating to Solve Common, Difficult Problems
One advantage of such mechanism is that problems and resolution methods are shared. Human rights problems relate to human beings, and the problems occurring in Japan are most likely occurring somewhere else in the world as well. Experimental efforts are probably being made elsewhere in the world to achieve solutions to the same problems. With the spread of globalization, common problems among people worldwide such as unemployment, poverty and destruction of the natural environment have a direct impact on our lives, but such problems cannot be solved through the efforts of one country alone. These issues must be tackled through cooperation within international community and among nations and people, based on the experiences of each country involved.
Creating Repeated Opportunities to Take on Challenges Again
Another advantage of the abovementioned mechanism is that it creates repeated opportunities to take on the same challenges again. International human rights institutions review individual applications or communications of human rights violations and inspect human rights reports submitted by various countries, and at times suggest different conclusions than those of the countries involved. Such instances provide opportunities for new discussions and the formulation of new solutions.
Sharing Problems of People around the World
We have reached an era in which legal professionals have the power to give shape to such multi-tiered methodologies, and it has thus become possible for lawyers to serve on a global scale. A lawyer's role is to legally uncover problems related to individual human beings and pave the way toward solutions. When I ask new students enrolled in the Meiji University Law School (Graduate School) what they want to accomplish, many of them respond by saying they want to make themselves useful to others. It is my hope that, in the future, those who become active in legal professions will understand that the problems they unearth are similar to the problems of other people around the world.
Profile
Professor, Meiji University Law School
LL.M. in Law & Doctor of Law degree (Meiji University), Visiting Scholar at King's College, University of London, and Faculty of Law, University of Cambridge, and Visiting Fellow at Harvard Law School. Her research topics include the symbiotic relationship between the constitutional law and the international human rights treaty, human rights in the United Kingdom, freedom and security, legal regulation of political finance and others. Publications include Jinken Hosho no Shin-kyokumen ("The New Dimension for Human Rights Protection," published by Nippon Hyoron Sha).