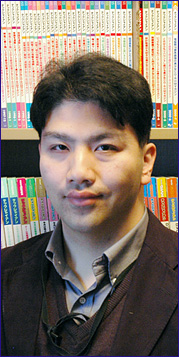 Modern Japanese culture and western culture
Meiji University's School of Global Japanese Studies promotes research and education which focuses on Japan from multiple global perspectives. Japanese cityscapes are one aspect in which people from overseas take interest when they visit Japan.
I am assigned to lecture not only on Japanese pop culture but also on modern Japanese cities. During the lecture, we deal with how our cityscapes are formed, including components like street advertisements and people's fashion. Many of our institutions and cultural styles, including governmental systems, universities, companies, as well as architectural design, art and fashion, were originally developed within European history rather than pre-modern Japan. Most of what constitutes our daily lives was transplanted from the West in the past century. Therefore, when we try to focus on whatever is "unique to Japan" in terms of industry, culture, tourism and other areas, we tend to emphasize that which is extremely exotic rather than what is mainstream. Similar circumstances are also found in other Asian countries. We conduct in-depth studies of such cultural structures embodied in our cityscapes.
Manga, anime, games and otaku culture
Under the phrase "Cool Japan," the Japanese government, most prominently the Ministry of Economy, Trade and Industry, has begun to consider measures to propel Japanese manga (comics), anime (animation) and videogames as promising cultural exports. However, government agencies lack personnel who have sufficient understanding of these subcultures. Academic research on this field is also lacking, and the reasons as to why such rich pop culture developed in Japan, underpinned by comparative analysis of comics and cartoons overseas, are yet to be explored and established.
The School of Global Japanese Studies pioneers this domain with three dedicated faculty members who are specialists in this field. While Associate Professors Yukari Fujimoto and Hirohito Miyamoto handle the general histories of manga and anime, I focus on the so-called otaku (nerd) culture, also encompassing videogames. In order to understand how manga, anime and games developed so uniquely in Japan, we must turn our attention to the characteristics of those otaku who have deeply supported these subcultures particularly from the 1980s onward.
Also, students who take my seminar have the option to produce original novels, manga, anime, games and other creative works instead of research papers. A foreign student from South Korea is now presenting his own manga to publishers, aiming to become a professional. We also had a student from Taiwan, who sold her dojinshi (self-published zine) in Japan and in Taiwan, conducting comparative research on how her work is received among the respective countries.
The world's largest archive of manga, anime and games
To establish academic research on manga, anime and games, students and researchers must have access to a solid archive of these subcultures, with the broadest array of works from past to present. Those who are interested in these fields, and consider studying in Japan, should take note that Meiji University offers one of the richest of such archives, which other institutions do not have. Materials of and on manga, anime and games have been discarded by most academic institutions and libraries. Meiji University plans to establish the Tokyo International Manga Library (tentative name) by 2015 as an archival museum to house over 2 million manga, anime and games materials. In 2009, Meiji University opened
the Yoshihiro Yonezawa Memorial Library of Manga and Subcultures
as a forerunning facility, storing approximately 140,000 manga publications, including dojinshi. We already have many materials that are not available at the National Diet Library. Being able to study at Meiji with access to these materials conveniently within the campus will prove to be a great advantage.
To those considering studying in Japan
Everyone who is considering studying in Japan naturally has tremendous interest in the culture of this country. However, before coming to Japan, I would advise you to flip that interest to your own culture surrounding you right now and do some preliminary research with the methods you are going to apply in Japan. Then, when you come to Japan, you can immediately start a comparative analysis between your country and Japan, with readily acquired techniques. This way, I believe that you will be able to make your research more unique and distinctive.
Profile
Kaichiro Morikawa has been an associate professor at the School of Global Japanese Studies at Meiji University since 2008. Born in 1971, he received an MA in Architecture at Waseda University, served as commissioner of the Japanese pavilion at the Venice Biennale 9th International Architecture Exhibition in 2004 and produced the 2004 exhibit OTAKU: persona = space = city. He is currently working to establish
the Tokyo International Manga Library
and directing
the Yoshihiro Yonezawa Memorial Museum of Manga and Subcultures at Meiji University
.
Major publications
・Learning from Akihabara: the Birth of a Personapolis (Gentosha, 2003).
・City, Architecture, History Series 10 – Contemporary Architecture and Cities (Edited by Hiroyuki Suzuki, etc.; University of Tokyo Press, 2006)
・OTAKU: persona = space = city, Catalogue to the Japan Pavilion exhibit, Venice Biennale 9th International Architecture Exhibition (The Japan Foundation; Gentosha, 2004)
URL references (Japanese only)
・Kaichiro Morikawa
http://homepage1.nifty.com/straylight/main/
・Otaku: Persona = Space = City, Japan Pavilion exhibit at the Venice Biennale 9th International Architecture Exhibition
http://www.jpf.go.jp/venezia-biennale/otaku/

URL references (English, Chinese and Korean pages available)
・Yoshihiro Yonezawa Memorial Library of Manga and Subcultures
http://www.meiji.ac.jp/manga/english/yonezawa_lib/
・Tokyo International Manga Library
http://www.meiji.ac.jp/manga/english/