World's biggest manga, anime and video game archive facility,
Tokyo International Manga Library, set to open in 2014 ( 2009.10.22 )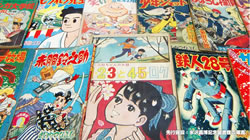 Products of Japan's subculture such as manga and anime have become an important economic and cultural export for the Japan of today. Subcultural products of Japan have been highly regarded across the generations for many years, and you could say that they serve as a mirror of Japanese society, reflecting the zeitgeist of the day. The importance of preserving the valuable archives of Japanese subcultures has even been recognized by the government of Japan.
However, despite the cultural, economic and academic importance of such archives there is currently barely a single public facility which collects such archives in the systematic way which is required for highlighting the history and spread of Japan's subcultures.
In response to this need, we are preparing the way as we make plans to open the world's biggest manga, anime and video game archive facility, tentatively titled the Tokyo International Manga Library, in 2014 at Meiji University. In the meantime manga fans can visit Meiji University's Yoshihiro Yonezawa Memorial Library of Manga and Subcultures, a library specializing in Japanese manga and subcultures which opened on October 31st 2009.
Outline of facilities
Name
Tokyo International Manga Library (tentative)
Objective
To house and preserve materials related to manga, anime and video games as well as make an academic and cultural investment in them.
Function
Multiple archive facilities (a specialized library made up of numerous collections, museum, theater, exhibition space, research rooms, etc.)
Site
Meiji University's Surugadai Campus, Sarugaku-cho, Chiyoda-ku, Tokyo Between six and eight minutes walk from the following train stations: Ochanomizu, Kanda and Suidobashi.
Proposed date of completion
2014
Items to be archived

manga, anime, video games and related books, magazines, fanzines
Manga manuscripts, original anime drawings, cells and film
Anime packaged software
Packages and infrastructure of commercial video games
Home video game consuls and software
Products related to characters and figures, etc.
Collections already archived (as of October 2009)
Manga, books, fanzines and materials related to subcultures currently housed at Yoshihiro Yonezawa Memorial Library of Manga and Subcultures (totaling more than 140,000 volumes)
Over 10,000 figures from the Seiun award winning Otaku Exhibition from the Japan Pavilion of the Venice Biennale International Architecture Exhibition
415 items including original anime drawings, revised drawings, layouts, etc.
90 anime cells
120 posters
6 commercial video game packages
Collaborating Companies
Contemporary Manga Library
Arcade Game Museum
Comic 1
Independent Administrative Legal Entity  International Infrastructure
Comic Market
Kaiyodo
Comitia Executive Committee
Founding Body
University Foundation, Meiji University