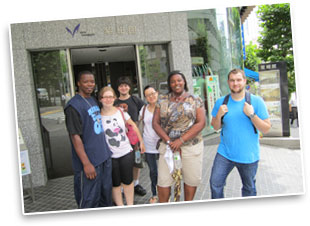 The Meiji University Cool Japan Summer Program is a series of lectures, workshops and field trips on a wide variety of subjects relating to Japan's contemporary image. In this program, we explore and contextualize these disparate phenomena to create a clearer image of "Japan" in today's global society.
The Meiji University Cool Japan Summer Program 2011 was held over two weeks from July 25 to August 5. This is the second time this program has been held, following on from the first program last year, and a total of six students, five university students from the United States and one Chinese student living in Tokyo, participated. Although the number of participants was reduced following the many cancellations in the wake of the Great East Japan Earthquake, five new lecturers joined the program, giving it greater scope and depth.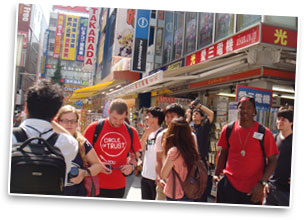 The program centered on the appeal of Japanese pop culture again this year. In addition to lectures on manga, anime, otaku culture, J-pop music, and movies, we included new lectures on games and fashion, and gave a broad overview of the tremendous influence these cultural aspects have overseas. The lectures were combined with field trips to Akihabara and the Ghibli Museum.
There were also lectures to shed light on various aspects of Japanese culture. These included Japanese modern architecture, the life of common people and popular theater during the Edo and Meiji eras, the traditional culture of Kyoto, and the world of art. Participants enjoyed a two-night trip to Kyoto and were fascinated by its culture and historical heritage.
One feature of the program is that it includes many hands-on experiential courses. There were workshops for making sushi, a tea ceremony, zazen (Zen seated meditation), and manga drawing at the Kyoto International Manga Museum. There were also courses in which participants could experience state-of-the-art technology, including robots and Japanese "monozukuri" (manufacturing) culture and practices.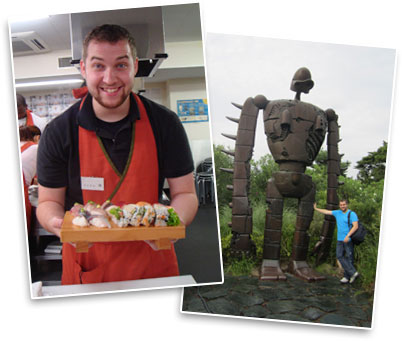 One of the new endeavors for this year's program was fieldwork for which each participant chose their own place and theme. They created records of the appeal of Japanese culture they witnessed with their own eyes, experienced, and discovered, and presented their findings on the last day of the program. Six Meiji University students also participated in the fieldwork.
Program participants expressed their impressions with enthusiasm, saying, "It was a wonderful and fulfilling program. It would be great if more people all over the world could get to know about it."
The second Cool Japan program, which aimed to explore the contributing factors to "Cool Japan" and to introduce this "coolness" to the world, has come to an end for 2011 and we will continue to pursue new possibilities to further enhance the program in the future.
More detail about program, click here
http://www.meiji.ac.jp/cip/english/cooljapan/index.html