The Meiji University Japanese Language Education Center held its inaugural Summer Japanese Language Program (SJLP) for 2011 over 16 days between July 25 and August 9 (Class Implementation: July 27 – August 8). Despite taking place for the first time, the program still managed to attract nine students from eight countries (Australia, Singapore, the USA, Thailand, the UK, Canada, South Korea and Indonesia), thus making this intensive training program a highly international endeavor.
Aiming to teach more than just the Japanese language, the program incorporates field studies and activities—and even a day trip to Hakone—to promote greater affinity with Japanese culture and lifestyles. What is more, participants had the option of a homestay with a Japanese host family. In addition, Meiji University students are involved in the program in a support role, and through their help with Japanese language learning and general advice on living in Japan, program participants get to interact with local students in a natural, uncontrived setting.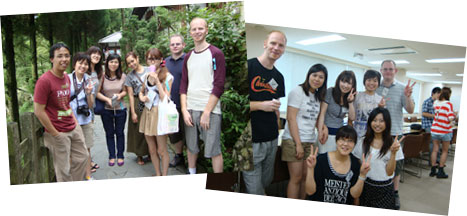 The program featured three Japanese classes: Elementary I, Elementary II and Intermediate, which were streamed to suit the participants' skill levels. Each class focused on teaching practical Japanese and improving oral communication skills. The contents in these classes based on real scenarios would be immediately useful for students outside of the classroom. For instance, students could learn how to place an order at a restaurant while asking questions about the ingredients, how to coordinate with a Japanese friend about what to do next week etc. In this way, the program sought to link Japanese language classes with real life in Japan. In fact, a participant from Indonesia said, "Now I can order food without worries!" and another from the USA said, "Recently, I have used many new expressions that I learned in class!"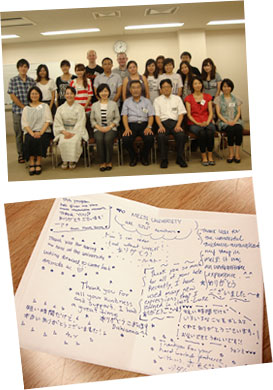 Outside of the classroom, participants were treated to four field studies/activities: a tour of Tokyo's Asakusa district, a kimono dressing class, a taiko drum class and a tour of the Honda showroom to see the ASIMO demonstration. Of these, the kimono dressing class proved very popular. The participants were fascinated by the intricate details of Japanese room design and the ins and outs of kimono design, before being dressed in the garments themselves and venturing outside for a walk around town and a photo shoot. They looked just like models straight out of a fashion magazine, and brought a dash of gaiety and color to Tokyo not normally seen in the capital.
This year's program was affected by a large number of cancellations as a result of the Great East Japan Earthquake. Still, those that participated were those most motivated to learn Japanese and who had a great love for Japan. Despite the short duration of the program, the participants showed tremendous improvement in their Japanese skills. The program concluded with a final presentation session, by which time each participant was able to give a speech in Japanese with confidence. Moreover, the coming together of students from a diverse range of countries made the program all the more significant as a forum for international interaction. That the participating students grew very close to each other was just another indication of the program's success.
Comments from participants