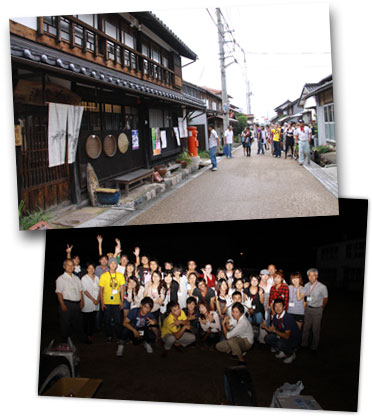 As part of its program for regional cooperation, Meiji University together with Tottori Prefecture and Tottori City implemented the "Experience Japan" Program for International Students from September 5 through 8 in Tottori City. Eighteen exchange students of Meiji University from China, Taiwan, South Korea and the United States together with about ten exchange students at Tottori University experienced various aspects of Japanese culture, such as the making of buckwheat noodles, agricultural work, traditional local crafts, and Zen meditation.
The campuses of Meiji University are located mainly in central Tokyo, so exchange students get exposed exclusively to Japanese urban lifestyle, and gain a somewhat one-sided experience that lacks opportunities to come into contact with the authentic Japanese culture that is preserved in the countryside. Learning more about Japanese culture through field work away from central Tokyo was a valuable experience for our exchange students.
On the first day of the program, upon their arrival in Tottori, the exchange students of Meiji University joined a group of exchange students from the local Tottori University and introduced themselves. One of the students shared with the group that "as a fan of the animated series Case Closed (Meitantei Conan in Japanese), I wanted to visit Tottori Prefecture, where the author was born." Another expressed a wish to experience life in Japan outside Tokyo.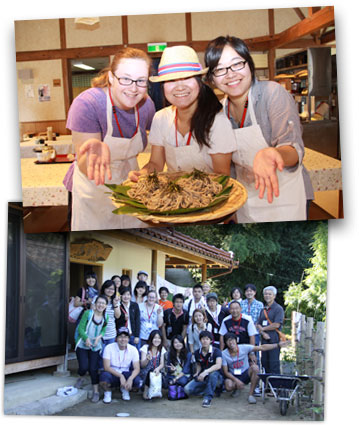 Next, the students took a stroll through the streets of Shikano-cho, a district in Tottori City that preserves the authentic atmosphere of a traditional Japanese castle town. On the second day the exchange students learned from local people how to make buckwheat noodles and participated in agricultural work such as removing weeds from rice paddies. After that, they lit a traditional Japanese furnace and prepared dinner together with local residents by cooking rice and tempura dishes. On the third day, they experienced paper making in Aoya-cho, a district of Tottori City famous for the Inshu Japanese paper produced there, and Zen meditation at a temple in the city, followed by a lecture about Tottori Prefecture and Tottori City and the infrastructure development of Shikano-cho. On the last day, the exchange students made presentations about their impressions of the program.
Below is an excerpt of the presentation made by an exchange student of the School of Commerce at Meiji University. "For the first time in my life I tasted boar, tried my hand at making buckwheat noodles, and experienced many other new things. I was most impressed with the infrastructure development efforts in the Shikano district. The beautiful buildings and pure water are truly amazing, and the efforts to establish a system for maintaining this historic district are particularly impressive. Such opportunities to gather diverse experience are the whole point about studying abroad. I really enjoyed these four days."
Other students spoke about their fascination with the traditional Japanese buildings and streetscape, or shared their satisfaction with this opportunity to enjoy views and sample foods that cannot be found in Tokyo and see for themselves various facets of life in Japan.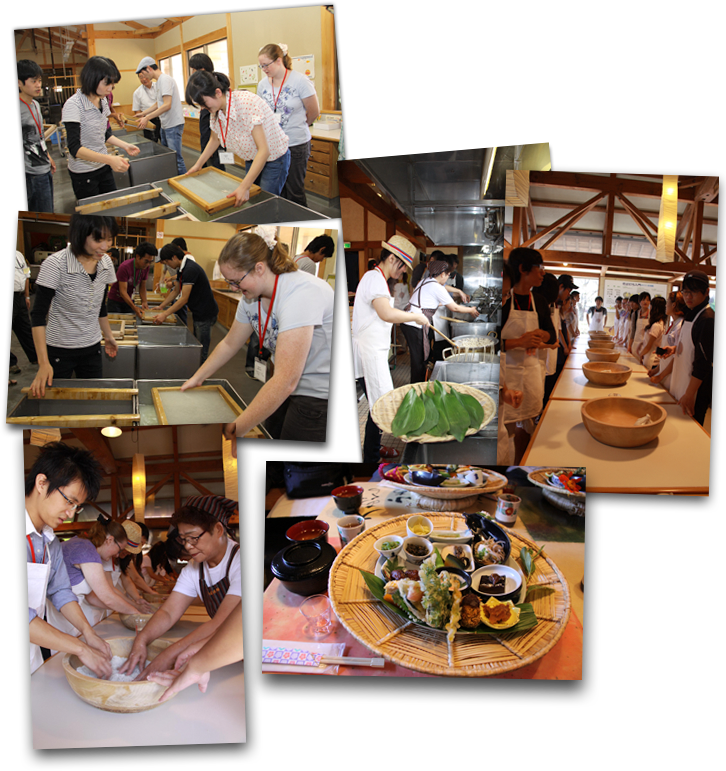 "Experience Japan" Program for International Students Main Events
September 5


(Monday)

Opening ceremony, walk in Shikano-cho, meeting with exchange students of Tottori University, etc.
September 6


(Tuesday)

Making of buckwheat noodles, agricultural work at Kinyudo, etc.
September 7


(Wednesday)

Experience of traditional Japanese crafts (indigo dying and paper making)

Exchange events with local residents (calligraphy, pressed flowers, Zen meditation)

Lecture about Tottori Prefecture and Tottori City, etc.

September 8


(Thursday)

Presentation of reports by exchange students, a walk in the Tottori sand dunes, etc.