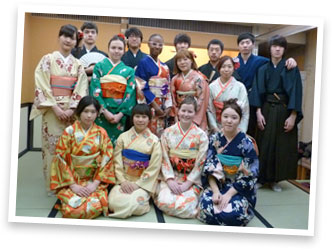 The Meiji University Japanese Language Education Center held a short-term Japanese language program for 14 days from February 16 to 29, 2012. The Meiji University Japanese Language Program Winter 2012 was the second of its kind, following a similar program held in the summer. It brought together 15 students from three countries—South Korea, Canada, and Russia—for a fulfilling program in spite of its short duration.
In addition to Beginners 1, Beginners 2, and Intermediate classes, the Japanese classes included for the first time an introductory class for those who had never studied Japanese before, allowing the program to accept a broader range of participants. The classes offered lessons according to the level of students with the goal of improving conversational ability.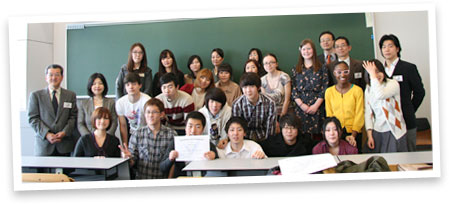 One attraction of this program is that it includes more than just classroom study of Japanese. Hands-on field activities such as how to put on a kimono were again supplemented with walking tours of Akihabara and a visit to the Ghibli Museum for participants interested in Japanese anime and manga.
A new endeavor this time was a workshop in which participants created presentation content with Japanese students. Under the theme "impressions about Japan today," each class conducted interviews and created content. Finished projects were presented at the closing ceremony, and they can be seen online (http://meijicommons.muc.meiji.jp/).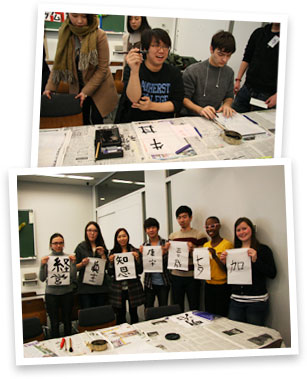 This program features a system in which Japanese students fully back up participants as supporters. An environment was provided in which participants interacted with Japanese students with "everyday Japanese language" in workshops as well as through activities such Japanese class conversation practice, Japanese language support, and advice on day-to-day living. Japanese culture exchange activities led by Meiji University students were also held, and students interacted naturally with one another while experiencing Japanese culture such as karuta card games and Japanese calligraphy.
This program held for people who want to come to Japan and study Japanese even for just a short time emphasized actually using the Japanese language one experienced and studied. We intend to further round out the contents of the program in the future for it to be even more effective in Japanese language study.