What's life like for an international student at a Japanese university? What about learning the language? The culture? Making friends? The International Exchange Student Committee supports international students in Japan. Here, committee members Kana Yamase and Seiji Sengoku interview students from Germany, Australia, and China about their studies at Meiji University, their daily life in Japan and other topics.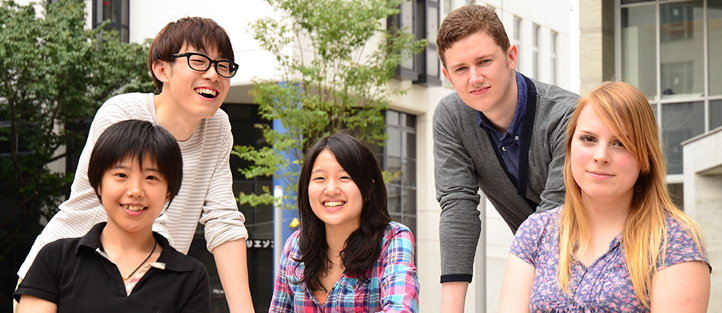 Seiji: "What made you decide to study in Japan?"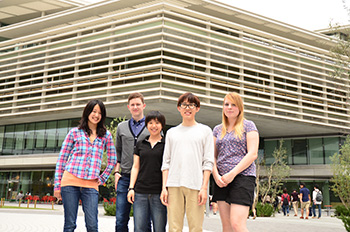 Jennie
I'd already studied in Japan before coming to Meiji University. Back in 2007, I was an exchange student at a high school in Osaka for two months. When I was about to start university, I went for Japan again.
I chose Japan for the high school exchange program because I became a big fan of anime [a Japanese form of animation] when I was eight years old. I'm not crazy about anime any more, but I am interested in Japanese music and fashion.
Alexander
I'm practicing martial arts, but that's not the only reason I chose to study in Japan. I was studying Japanese culture at university in Australia and I realized that, unless I came to Japan, I couldn't really learn it properly.
I got interested in Japanese culture because, in high school, we all had to take a sports class. I wasn't very good at sports like soccer, so I chose the class with the kindest teacher, which was karate. That's when I started studying Japanese. That was in my first year in high school.
Shinshin
After graduating from high school in China, I went to study in Australia for six months, but my mother asked me why I didn't study in Japan instead, as it's closer to China. So I quit and came to Japan.
Kana: Didn't the March 11th disaster affect how you felt?
Shinshin
Not really. Obviously, my family worried about me after the earthquake and tsunami disaster, but I came back to Japan because I felt safe to be back.
Seiji: Why did you choose Meiji University?
Alexander
Meiji has strong connections with my university in Australia – and the Global Japanese Study department where they teach martial arts, religion, and so on is especially good – and they're the things I wanted to study.
Seiji: What are the differences between universities in Japan and those in your own countries?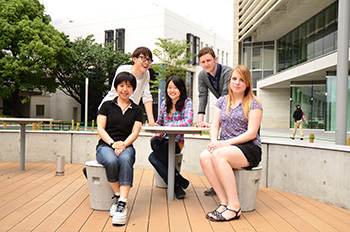 Alexander
Mainly the number of classes. In Japan, we take so many classes. In Australia, you're allowed to take only four or five. Japanese students must think Australian students are really lazy!
Also, in Australia, students don't have to attend every class. You get both classes and lectures. I think you have to go to classes but not the lectures.
Kana
I used to study at a US high school and have many friends at uni in the US. They tell me that students there take about four classes. They focus on those to get course credits, rather than on taking lots of classes.
Jennie
Japan's a bit like Germany, where we take about ten classes. The difference is that in Japan we get homework, but in Germany we don't. We have to write papers during the vacations instead – usually about 15 papers each.
Shinshin
In Australia, all classes are usually long - like two hours - and it can be tough to concentrate.
Seiji: No doubt you all want to practice your Japanese here. Do you get much chance to talk with Japanese students at Meiji?
Alexander
Well, not really during class. But the international lounge is great. People I've not met before come up and talk. I also talk to Japanese students a lot in club activities because I'm one of only two foreign students in laido club.
Kana
Good. We were hoping that the international lounge would be a good meeting place, so I'm very happy to hear that.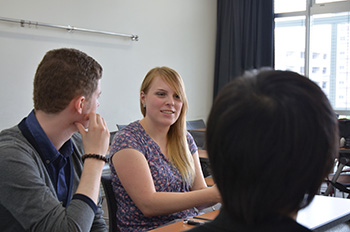 Jennie
I'm in a club called Nagomi-kai. We do short trips and sightseeing around Tokyo – to the zoo and stuff. I'm the only foreign student in that club. But there are loads of parties, like the welcome party and Halloween party, that the university organizes. They're great for meeting Japanese students.
Shinshin
I often talk to my friends in the same seminar. We do karaoke, too. That's a really good chance to learn Japanese.
Seiji
It seems like the best way to meet people is at club activities and seminars, where people get together in small groups.
Kana: Have you had any language problems in Japan?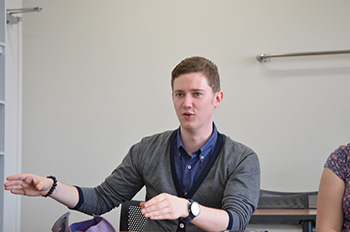 Alexander
Not really. Of course, it's hard explaining how I feel in Japanese when I haven't done it before. But I try to think about it and then I can get through most things.
Kana
One of my friends said that, when she first came to Japan, she couldn't read Japanese on a vending machine at school, so she just guessed and pushed one of the buttons, like in a game.
Alexander
When I use a vending machine that hasn't got pictures, I guess, too – I push a button and see what I get. It's not the end of the world if I don't get what I expected.
It used to be hard in restaurants that had menus without pictures. Ordering was tough because I couldn't remember the names of the dishes. So I just chose dishes with the most beautiful Kanji [the Chinese characters adopted by Japan].
Making a reservation in an izakaya [a casual restaurant and bar] is especially tough because there are words that people use only in an izakaya. I had no idea what they were talking about.
Seiji: I can imagine that restaurant reservations would be difficult. How about traveling and hotels?
Alexander
Actually, booking hotels is much easier as they use Keigo [polite Japanese], but, yes, dealing with restaurants is the hardest part.
Shinshin
Because I'm from China, I can understand Kanji, but the readings are completely different from Chinese. The toughest part for me was Katakana [a part of the Japanese writing system]. I couldn't read it at all at first. Actually, when I first got here, I hardly knew any Japanese, so I started right from the basics.
Jennie
I find it really hard to talk on the phone, because it helps to see the person's face.
Kana: Is there anything you wish you'd done before coming to Japan?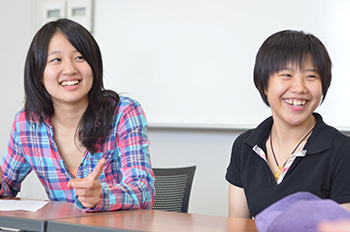 Alexander
Yes. Before I got here, I thought that knowing great Kanji wasn't such a big deal provided I could speak Japanese. But I realized I was wrong when I got here, and that caused a lot of problems. Even now, I have to ask the teachers how to read some of the Kanji. Even though I speak Japanese well now, my reading is slow, word by word, and I sound like a completely different person.
Seiji: Any advice for people thinking about coming to study in Japan?
Alexander
Yes: study Joyo-Kanji [Kanji for everyday use] and ignore the Kanji that your school back home teaches you. In Australia, the Kanji test for Australians is very different Kanji from Joyo-Kanji. So Australians who studied for that Kanji test can't pass the JLPT [Japanese Language Proficiency Test] because the Kanji they learned are so different from those on the JLPT.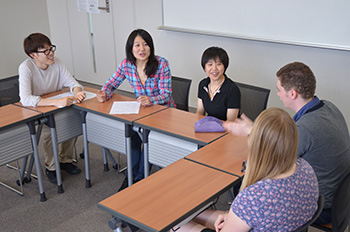 Jennie
I really regret not studying Japanese at all before coming to Meiji. I should have studied at least a little.
Kana
Before I went to the US highschool, I'd planned to learn basic English words, but I didn't. So my first year in the US was a really tough time.
Shinshin
Actually, I think it was a good thing for me that I didn't study Japanese until I came here. Because I believe that studying Japanese in Japan is totally different from studying Japanese in China.
Seiji
But you didn't know any Japanese when you came here, and now you're doing fine. So I guess the important point is that if you're interested in coming to Japan, then you should just have the courage to come here.
Seiji: What are some of the good things about Japan?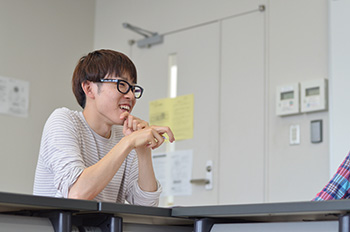 Shinshin
I think that Japanese girls have an elegant sense of fashion. Japanese food is delicious, too. And Japanese people are so honest. They work hard and make sure they meet deadlines. When we have group presentations, everyone comes on time. Even when we go for drinks, my Japanese friends are never late.
Jennie
Japanese people are kind and helpful, with great personalities. My host family in Osaka were so kind and warm. Also, girls' fashion here is super-cute and very different from Europe.
Alexander
Japanese people move very beautifully. They have good posture and walk quietly without making big steps.
Kana: Are there any strange things about Japan or things that came as a culture shock?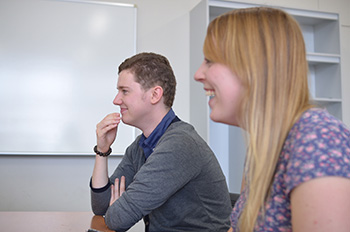 Alexander
I find the Japanese basically very kind. But when a stranger falls over in the street, my friend said you're not supposed to help because you make a big issue of it.
I also find it strange that people can smoke inside buildings, like restaurants. When the waiter asked me if I'd like a non-smoking seat, I was surprised because I didn't expect smoking seats to even exist.
Shinshin
My experience has been totally different from Alex's. I was walking through the metro and had to stop suddenly because my head hurt. An old lady came up to me and asked me if I was OK.
The smoking situation isn't a problem, either. In China, you can still smoke anywhere, so I like the fact that smoking seats and non-smoking seats are separated in Japan.
Jennie
It's different in Europe. In most public buildings, you can't smoke.
Seiji: What's good about studying abroad?
Jennie
Meeting new friends from loads of different countries – and visiting them. It's safe, too, unlike Germany where there are safe parts and dangerous parts. I was surprised that people just put their wallets in their back pockets and nobody takes them.
Shinshin
Studying abroad gives you so many precious experiences. Traveling, too. I've been all over Japan and got to use my Japanese. Even making a restaurant reservation is fun. And I got to speak Japanese when I traveled in South Korea.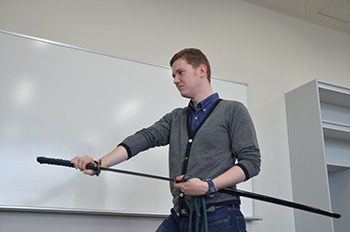 Alexander
Because I'm studying Japanese culture, I need to live here. It's like sports. You can't play soccer just from reading books. It's a great opportunity for international exchange as well.
Kana
The international lounge is an excellent place for students to meet up, help each other with homework, and talk about where to go for the summer. I can tell they're having a lot of fun.
Seiji
It's great that people from different countries come to Japan. Japanese students can meet people from all over the world.
What's your dream?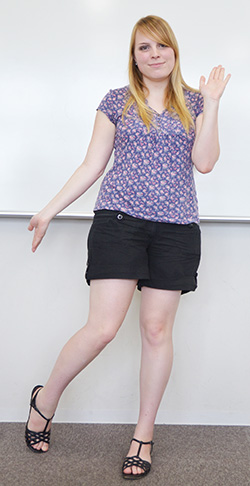 Jennie
I'm going to graduate school. That's what about 80% of undergraduate students do in Germany. I want to study international relations as my major and economics as my minor.
Alexander
Not decided yet. But I'd love to teach martial arts in Australia. So I'd need to come back to Japan to study martial arts at grad school and pass level 1 of the JLPT.
Shinshin
I want to travel and learn about the rest of the world. After studying, I'd like to use my English and start a business importing wine from the USA to China.
Seiji
I'd like to be involved in the development of my hometown.
Kana
I'd like to use my experience and teach English – not just English grammar, but also English that's useful in everyday life.