The Graduate School of Governance Studies' English Track


Bangladesh
Ministry of Education of Bangladesh dispatch student
Malaysia
Malaysian government dispatch student
Tanzania
JICA dispatch student
The Philippines
JICE dispatch student

International students of the School of Governance Studies' English Degree Track from Bangladesh, Malaysia, Tanzania and The Philippines talk about their research at Meiji University and life in Japan.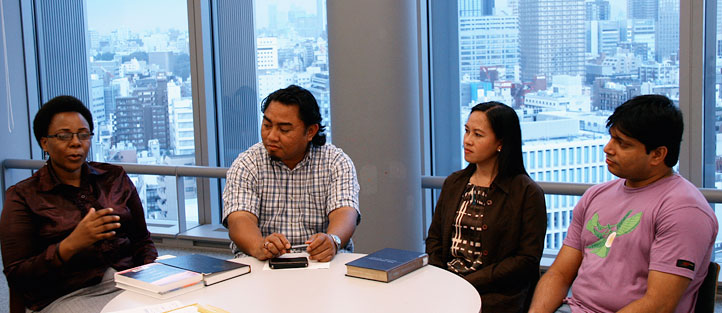 The Graduate School of Governance Studies aims to develop the subject of Global Issues from the viewpoint of "Good Governance," where governments, markets and civil society should collaborate to govern society more effectively. The global issues involve poverty reduction, sustainable development, decentralization of government, regional development for economic growth and crisis management for a safe society. In order to contribute to capacity development of prominent young professionals from around the world, the School offers three programs taught entirely in English, namely, the Public Policy Program, the International Development Policy Program and the Community Management Program.
As of November 2011, the Graduate School of Governance Studies has 37 international students from all over the world.

1

Why did you choose to study in Japan?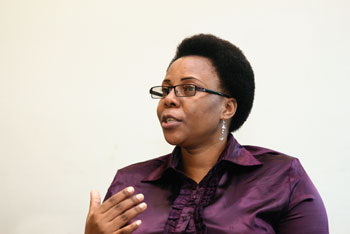 MKOMA
Japan and my country have a long and close relationship, and Japan has been helping Tanzania with many things. I worked with Japanese teachers before, and I wanted to understand how they work so hard, how they keep time and so on.
ABANG ALIAS
In my country, our own policies have been developed by looking at Japan and Korea, moulding our policy based on these two countries, so it's better for me to choose a university in Japan. That's the main reason. As I'm doing research on road safety, Japan is one of the best countries in Asia for this research as it has a low fatality rate.
AUTOR
Japan is one of the best countries offering good courses because I'm working as a government operations officer and Meiji could offer me a specialized course. So I chose the course content more than the country. It relates directly to my job in the Philippines.
MIA
For me, two reasons made it possible for me to come to Japan. First is the JDS scholarship program which has been implemented as grant-in-aid program by Japanese government. Second, and this is my own personal reason, Japan is clearly a more developed country in Asia, so I wanted to come here and see it for myself.
2

Why did you choose Meiji University's Graduate School of Governance Studies?
MKOMA
I learned that Meiji was offering courses which are very important to me, like Human Resource Management, Human Resource Development, Total Quality Management, Program Information and Public Policy. This is good training that I need to be a public servant. These courses are very important to my career, and the content is very good.
ABANG ALIAS
I have friends at home in Malaysia who studied at Meiji and they recommended that I come here. Most of the professors are former civil servants. When referring to the literature, they can also refer to the actual field, so they can provide practical lectures based on their personal experience, not just on theories stated in the literature. I have friends in Tokyo who are studying at other universities right now and they don't have this key point. They don't have teachers who have experience in the field, so they don't have lessons which give them experience in the field.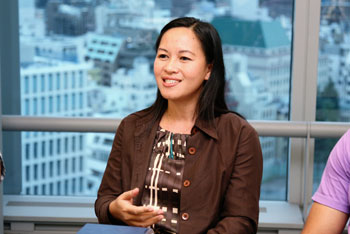 AUTOR
For me, it's the best deal. Not only does it have good facilities, but it also has good professors with personal experience. We are learning from the cream of the crop. But also the staff are good at caring for us in our personal lives. The Japanese students are also very friendly.
MIA
Japan is clearly more developed than other countries. Since it is Tokyo, I can enjoy Japanese life. I had a choice of seven universities, but Meiji was the only one in Tokyo, and Tokyo is a symbol of the most developed city in Japan. Meiji has a good record for training government officials, so it is a unique opportunity for me to meet with these kinds of people. Former students of Meiji also recommended it to me.
3

What are you currently studying?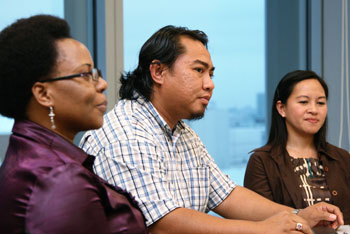 MKOMA
I am studying best practice for waste management. The problem in developing countries is policy implementation. My supervisor worked a lot in local government so he can help me a lot. Not all universities are like this. In Meiji, if you study it, you have many opportunities to go to government offices which do these things.
ABANG ALIAS
My thesis is related to road safety, involving the government, the private sector and the public in general. There are also aspects of international cooperation and the influence of NPOs and NGOs.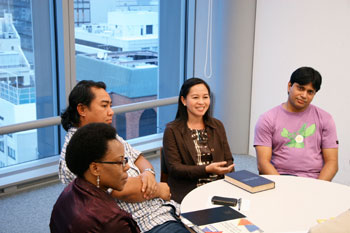 AUTOR
My paper is a case study about improving the performance of local government.
MIA
My key area of interest is how to measure the quality of government services. In Japan, they have developed quality management, quality circles, statistical quality management and so on. In my sector, we focus on the quality of education especially. Most of the professors are ex-civil servants and they have great expertise in these areas.
It was obvious that the Meiji curriculum placed a lot of emphasis on Total Quality Management and I was interested in how deeply they could implement this in the public sector—it should not just concern the volume of service, but also the quality of service.
4

Which course had the biggest impact on your research?
MKOMA
Last semester it was Environmental Assessment and this semester it is Environmental Policy and Politics. I learned about environmental policy around the world as well as challenges and solution strategies.
ABANG ALIAS
Most of the subjects I studied had a direct influence on my research. Courses such as International Relations, NGOs and NPOs, and Community Development were all useful. As part of the Non-Profit Organizations course with Professor Nagahata, Research Methodology is taught directly by my supervisor and helps me with how I will conduct my research project. Road safety is related with governance generally, so really everything I am studying can help me: all the courses help, sometimes directly and sometimes indirectly.
AUTOR
I would say TQM (Total Quality Management) is the most important course for me. Project Evaluation also sounds very interesting although I haven't enrolled in it yet. Also, I'm taking some subjects related to economics and investment because I would like to see the impact on revenue generation in local government units.
MIA
We are all involved in Public Policy, which is a very comprehensive concept. My preference is Total Quality Management. Another course is Community Development and Environmental Assessment, as it was highly practical. Another is Local Government. Of course, the Public Administration course is very good because it helps me understand what public administration in Japan is really doing. These are the core courses which I think will help me.
&nbsp
5

What's it like living and studying in a Japanese-speaking society?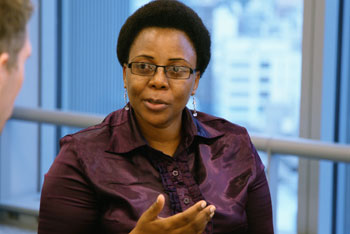 MKOMA
Even when Japanese people don't speak English, they are always ready to help. If you lose your bag, they return it to you. If you are lost, they print out maps for you. Also, I don't find Japanese to be the most difficult language. In fact, some of the words are very similar to our words.
MIA
My Japanese is not good enough to communicate well. But all our lessons are in English, so we can do the whole course in English. I found that many Japanese can speak English, so I haven't had any problems. When it comes to studying Japanese, although speaking is not so bad, writing and reading are very difficult. I think that speaking Japanese better could help us understand the culture and the environment better, but we have to focus on our core studies.
ABANG ALIAS
My Japanese is terrible. For instance, I found Arabic easier to learn. Usually to say 'please' and 'thank you' is not difficult, but if a word from my dictionary is not enough, sometimes I phone up a friend who can explain my English by translating it into Japanese for me.
AUTOR
There is a free Japanese language class at the university, so we can learn when we want to. And because it's non-accredited, if you struggle with it, it's not a problem. Also, they have staff to help you in everyday life, with documents and so on.
6

What are your plans for the future?
MKOMA
In my country, waste management is getting worse and worse every day, even though the government really wants to tackle this. So I really wanted to come here and acquire the skills for managing this.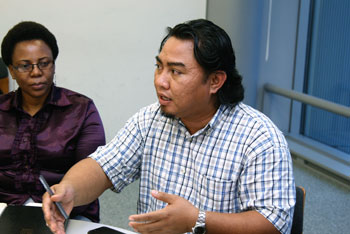 ABANG ALIAS
I want to really implement what we're learning here. In other universities, everything is e-everything—e-this, e-that. In Meiji, there is much more of a human touch and an emphasis on human relationships. I want to use this experience to make a real difference in my country.
AUTOR
I'm bound to honour the scholarship contract. My dream is to get a Masters degree from Meiji University. However the challenge is how to integrate what I'm learning in the course into local government practices.
MIA
I want to develop my effectiveness in providing services. I think this course will help me to develop a capacity to deliver real quality in this role.
7

What would you like to say to people applying to the Graduate School
of Governance Studies?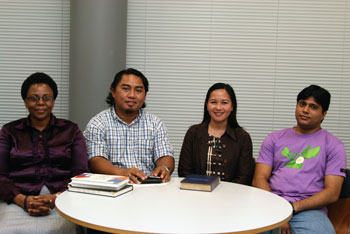 MKOMA
Meiji is very well equipped with equipment for learning. Japan is a foreign country and they don't always speak your language, but no matter what the situation, they are ready to help you if you have any problems. There are staff who are devoted to supporting your stay here, but generally, Japanese people are always ready to help you. This is why I would really advise you to apply to Meiji.
MIA
Japan is the most developed country in Asia, and Tokyo is the most developed city in Japan. In my country, if you haven't been to Tokyo, you can't say you have been to Japan. But Meiji is special, because here, all the professors have personal experience in implementing the subjects they are teaching and this is very valuable to me.
ABANG ALIAS
First, it's in Tokyo. We have a lot of opportunities to have field visits as a part of classes at Meiji. I have friends studying at other universities in Tokyo, but I heard they don't have this opportunity. Their courses are only academic. Also, I can stay here in the building as long as I want. I feel safe here.
AUTOR
For me, it gives the best deal. It not only has good facilities, like the library and the clean area, but also you have the opportunity to learn from the best, from the cream of the crop. Also, we have staff who are devoted to our well being. And the campuses are close to each other, so it's easy to chat with Japanese students. I have good friends among the Japanese students on the undergraduate courses.
8

What about foreign students who are worried about the recent earthquake?
What would you say to them?
MIA
I was here right through the difficulties, but I didn't experience much hardship because the Japanese were helping us through the time. But we have earthquakes all over the world, so this could happen anywhere.
ABANG ALIAS
My supervisor gave us constant updates and emailed all of us about any new information. Every day we got updates. We were never short of information about what was going on.
MKOMA
I wasn't here when the earthquake happened, so I thought that when I arrived there would be no tall buildings standing. But this wasn't the case. All the buildings were standing, because here in Japan, which has suffered from natural disasters for centuries, all the buildings are earthquake-proof. Because of this, while natural disasters can happen anywhere, Japan is the safest place to be.