Academic Impact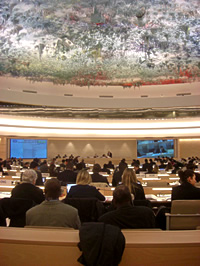 Meiji University addresses global human rights issues in cooperation with Human Rights Watch, an NGO that conducts research, oversight, advocacy, and improvement campaigns on human rights around the world. In collaboration with the Japan Office of HRW located on our campus, we play an active role in efforts to resolve human rights issues, by promoting research and research presentations on these issues among faculty and students. We also provide faculty and students with the opportunity to look at the world's human rights issues from a broader perspective by holding numerous symposia and conducting joint research with HRW on human rights.
This year, five symposia were held by HRW on campus in which many students and faculty members participated. With the human rights problems that are actually taking place in various countries as a main topic, earnest discussions were carried out with the HRW Geneva Director, the HRW Moscow Deputy Director, individuals from Amnesty International, various NGOs, and journalists participating. Translation of the symposia proceedings is being undertaken with the assistance of Meiji University students.
Meiji University is actively conducting a variety of activities related to human rights. For example, on December 4, 2009, Meiji University faculty members with the support of Human Rights Watch reported their research findings at a meeting conducted at the Headquarters of the UN Human Rights Council' Board of Directors in Geneva.