The Ikuta Campus is a vast area situated in the Tama Hills. The campus has several advanced research facilities such as The High-Tech Research Center and Ikuta Structural Test Building to greenhouses and fields. Students from the School of Science and Technology and from the School of Agriculture, as well as graduate students, study in this rich natural environment. For students busy in experiments and research, facilities for daily life such as a cafeteria, shops and ATMs are available on campus. Also, our library is open on Sundays. Thus, the campus is planned to function for the convenience of students.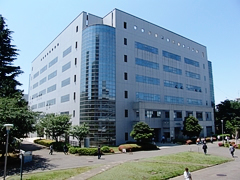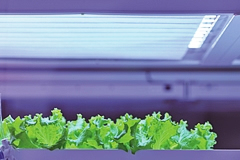 Ikuta Campus Facilities
Central School Building
This is the Central Building at Ikuta Campus, and has offices for engineering and agricultural research, clinics, student counseling service, information processing class rooms and AV hall, etc.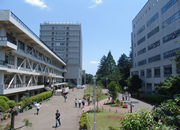 School Building 2-A
This is a new research lab constructed in March 2004 for engineering research. This building is designed, in the view of the future expansion of the Ikuta Campus, to co-exist with the rich nature in the surroundings and to create research environments where students and teachers can communicate freely beyond the fields of their specialties. This building has many open-ended lounges with research rooms and labs located around them, providing a collaboration space for mutual promotion of their research activities.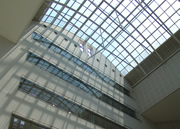 High Technology Research Center
This center was constructed in 1997 with a grant for projects promoting enhancement of private universities from the Ministry of Education, Culture, Sports, Science and Technology. This is a base for large-scale projects such as biology-related ventures and academic frontier promotion projects, etc.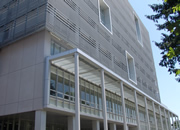 Ikuta Campus Structural Testing Facility
Ikuta Campus Structural Testing Facility was established in 1999 with a grant from the Ministry of Education, Culture, Sports, Science and Technology. It has capacity for single, dual and triple pressuring as 3 hydraulic actuators are installed on each of the 2 orthogonal directions of load-bearing floor and load-bearing wall. Experimental data measuring and recording equipment are also available to analyze actual behaviors of building structures in recent earthquakes. Ikuta Structural Test Building provides a major facility for research and development on new quake-resistant and reinforcement design methods.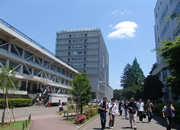 Information Science Center
The Information Science Center provides facilities for education and research related to information on this University as a whole. Students can learn various Operating Systems, programming languages, CAD, numerical analysis and simulation as well as attend lectures on the use of computers and networks.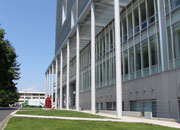 Biotechnology Experiment Facility, etc
This is a clean room to experiment on genetic modifications of botanical plants and micro-organisms, etc. It provides air curtains to prevent contamination from dust from the outside air and facilities to prevent pollen of genetically modified plants from being diffused to the outside air.
Workshop
The workshop provides lathes and milling machines for general use and many other tools for practical training. Computer numerically controlled (CNC) lathes, milling machines, precision grinding machines, electro discharge machines and wire electro discharge machines are widely used to manufacture experimental devices.
Farms/Greenhouses
These are used for practical training of producing farm products and research on soil analysis and crop cultivation. A research and experiment greenhouse for hydroponics is used for testing selective breeding, etc.