Junior and Senior year students in the Schools of Law, Commerce, Political Science and Economics, Arts and Letters, Business Administration, and Information and Communication, as well as graduate students in humanities study at this campus.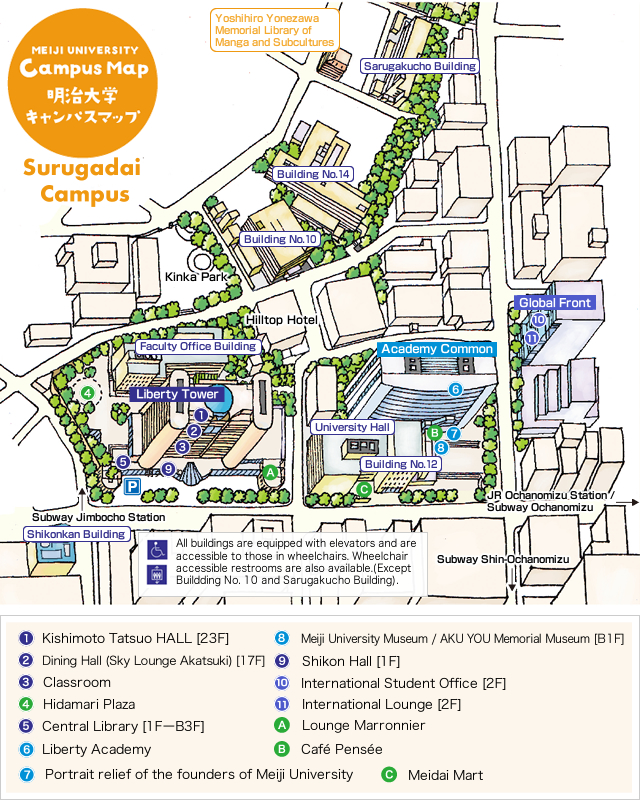 For details
Liberty Tower
① Kishimoto Tatsuo HALL(23F) ② Dining Hall (Sky Lounge Akatsuki) (17F)
③ Classroom ④ Hidamari Plaza ⑤ Central Library (1F – B3F) ⑨ Shikon Hall (1F)
【A】Lounge Marronnier

Academy Common
⑥ Liberty Academy ⑦ Portrait relief of the founders of Meiji University (1F)
⑧ Meiji University Museum / AKU YOU Memorial Museum (B1F)  【B】Café Pensée

Global Front
⑩ International Student Office (2F) ⑪ International Lounge (2F)

Other Facilities
・Sarugakucho Buildings, ・Shikonkan Building
・Yoshihiro Yonezawa Memorial Library of Manga and Subcultures 【C】Meidai Mart





Other Facilities
Sarugakucho Buildings
The buildings house several research institutes and laboratories, including the National Testee Support Center and the Research Institute for Japanese Ancient Studies.
Café and Kiosk
【A】 Lounge Marronnier
Facing Meidai-dori, the lounge is the perfect place for group studies and also as a meeting place.

【B】Café Pensée
A dining cafe on the first floor of Academy Common. It offers creative Italian and other cuisines at reasonable prices.

【C】 Meidai Mart
A mini-mart that sells everything necessary for student life, from rice balls, bread and other food, to beverages and stationery. All beverages are sold at a 10 yen discount and all stationery is sold at a 20% discount. Meidai merchandise is also available for purchase.