Nov. 24, 2010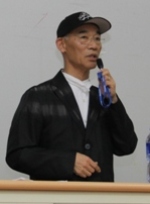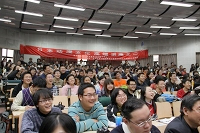 On November 23, Meiji University's School of Global Japanese Studies held its second overseas lecture at Peking University, considered by many to be China's preeminent academic institution. The lecture was entitled, "Japan's Avant-Garde Manga and Anime Culture"

The event follows the inaugural lecture held in May of this year which was jointly hosted by Meiji University's School of Global Japanese Studies and Peking University's Department of Japanese Language and Culture, School of Foreign Languages, with the aim of introducing Japan's sub-cultures known throughout the world as "Cool Japan." The lecture invited Yoshiyuki Tomino, director of the Mobile Suit Gundam animation movie series, to discuss the theme of "Can animation become the eighth art?" The venue was overflowing with more than 6,000 people, with only standing room available, comprising not only students from Peking University but also Tsinghua University and People's University. Everyone listened with rapt attention to Mr. Tomino's lecture.

The program began with the screening of a video, produced by Peking University students and others, in homage to Mobile Suit Gundam. Associate Professor Yukari Fujimoto of the School of Global Japanese Studies introduced the director's profile, then Mr. Tomino began the lecture, filling the hall with even more excitement and fervor.

Mr. Tomino opened his lecture by saying, "Only people are capable of creating drama on our planet," and discussed the reasons for Gundam's success, adding his personal vignettes about working in the movie animation industry. While describing the power of expression that animation possesses, he stressed the importance of not forgetting that the audience is comprised of people, and remembering to respect things that are different, and strongly impressed upon the participating students the importance of a mindset and thought processes for creating works that would survive the test of time, even thirty years from now.

After the end of the lecture, Kaichiro Morikawa, Associate Professor at the School of Global Japanese Studies, spoke about the new and novel ways in which the Gundam series presents the image of the hero. His intriguing presentation, occasionally quoting Greek mythology, mesmerized the audience. This was followed by a question and answer session. A student in the audience asked Mr. Tomino about his hopes and plans for Gundam's 35th anniversary. His answer was as follows, "This time, I want to make a life-size Zaku for Char Aznable, and make it jump," brought a roar of laughter from the audience. The lecture, warm and friendly and brimming with enthusiasm from all concerned, drew to a close with great success.

"Mobile Suit Gundam" began to be televised in 1979. Sequels of this animation continued to be produced thereafter, and the movie celebrated its 30th anniversary last year. Gundam is a robot animation enjoying nation-wide popularity, supported by fans covering all age groups, from children to adults. It receives high acclaim not only in Japan but also globally. This lecture highlighted, once again, the huge popularity the series enjoys in China.

Prior to the lecture, Cheng Zhaoxiang, Dean of Peking University's School of Foreign Languages, and Shigeo Yamada, Minister of the Embassy of Japan in China, greeted the students and welcomed the holding of the second lecture. They both expressed their strong expectation for continued active cultural exchanges through this lecture. "Japan's Avant-Garde Manga and Anime Culture" is planned to be held on an ongoing basis. It is hoped that it will help to deepen Chinese people's understanding of Japanese manga and animation culture, and to further promote academic and cultural exchanges between Meiji University and Peking University.