With the rapid progression of globalization, the way nations position themselves is changing, and with this as a backdrop it is plain to see that Japan's universities are also changing. Ways of thinking are changing as things are seen through an international light, and it is now seen as a matter of urgency to produce graduates who can be active on the world stage. Here at Meiji University, we are aiming to be one of the top universities in this global society, and we are making great strides in innovating education and research at the University. In addition to that, with the founding spirits of "rights, liberty, independence and autonomy", Meiji University is considering the importance of the university social responsibility, especially contributions to the international community.


Top Global University Project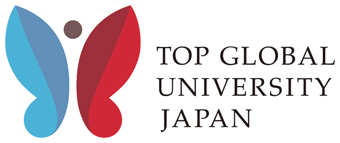 "Going Global Meiji 8000!"
- Developing Students with a Frontier Spirit for the Future, by Encouraging Students' Proactive Learning -

Meiji university was selected for the 2014 Top Global University Project as a (type B) leading-global type university by the Ministry of Education, Culture, Sports, Science and Technology (MEXT).

Degree Programs in English
Meiji University currently offers six degree programs in English.
Global Common Project
Our Global Common Project is to establish an "Intellectual Global Common", where people from all over the world can gather to advance research and education. We will form a foundation for transmitting Japanese culture, technology and intellectual property to the world.

Global 30 Project
The G30 Project is to further promote the globalization of Japanese higher education by assisting a selected number of universities through a prioritized allocation of grants of up to JPY400million for the next five years. MEXT announced the selected 13 universities last July to be centers for globalization of Japanese universities. The universities are expected to build and improve on a system whereby international students may study and engage in research. The 13 universities are as follows.