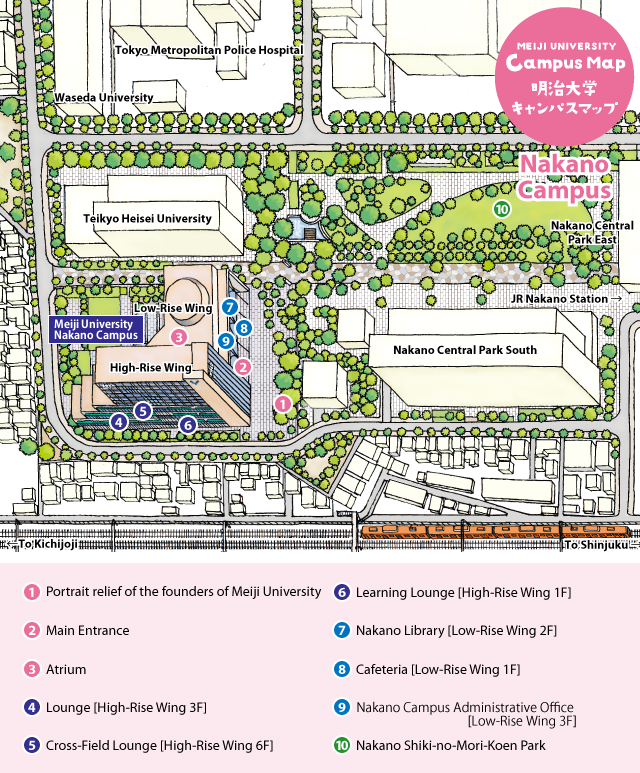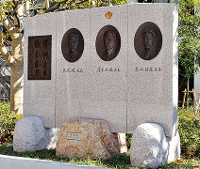 ① Portrait relief of the founders of Meiji University
A relief engraving depicting the three founding young lawyers of Meiji University, Tatsuo Kishimoto, Kozo Miyagi, and Misao Yashiro, as well as "rights, liberty, independence and self-government," the philosophies on which the university was built.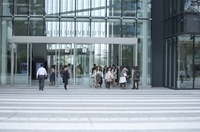 ② Main Entrance ③ Atrium
In between the High-Rise and Low-Rise buildings, an open-ceiling space surrounded by glass where sunlight shines through can be found. From here, you can pass through to the grass plaza on the west side, a place of interaction with the local community.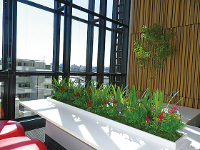 ④ Lounge [High-Rise Wing 3F]
The lounge, which is located in the center of the open classroom area surrounded by glass, presents a casual communication space as well as a self-study space where students can study individually.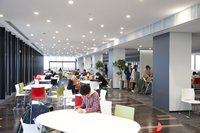 ⑤ Cross-Field Lounge [High-Rise Wing 6F]
On the sixth floor, between the classroom area and research lab area, is the Cross Field Lounge, where faculty members and graduate school and undergraduate school students can relax and mingle. On the same floor, there will be a presentation space where graduate school and undergraduate school students can exhibit the results of their research.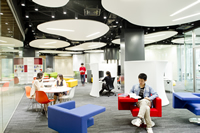 ⑥ Learning Lounge [High-Rise Wing 1F]
The Learning Lounge is divided into 4 areas.
"Communication Area": Students can interact with each other and have international exchanges.
"Collaboration Area": Students can do group work.
"Consultation Area": Students can receive study support from TAs. They can also receive consultation and support for studying abroad from a study abroad counselor.
International students can seek support/advice from an International Student Section staff member.
"Quiet Area": Students can engage in self-study. They can also use audiovisual materials for studying. Resources including language learning materials, rental PCs, AV equipment, a studio, speaking booths and media library are available for use.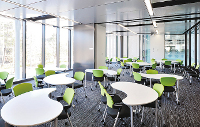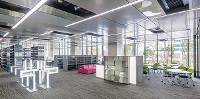 ⑦ Nakano Library [Low-Rise Wing 2F]
The Nakano Library is divided into a variety of carrel spaces, such as the browsing zone, information search zone, and newspapers and magazines zone. It provides a comfortable environment to concentrate and study in, as well as a space for people and information to actively mingle.
Nakano Library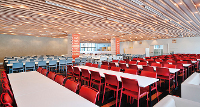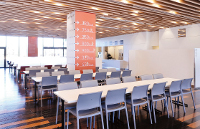 ⑧ Cafeteria [Low-Rise Wing 1F]
The cafeteria is an open campus dining space that is connected to an outdoors terrace, from where you can sense the lush green.
⑨ Nakano Campus Administrative Office[Low-Rise Wing 3F]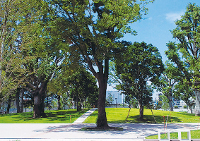 ⑩ Nakano Shiki-no-Mori-Koen Park
The Nakano Shiki-no-Mori-Koen Park, which neighbors the Nakano Campus on its east side, is a relaxing area lush with green such as cherry, gingko, and Japanese zelkova trees in its 15,000 m2 grounds. Additionally, the park is a regional evacuation center designated by the city of Tokyo and is equipped with the latest disaster prevention facilities, including a disaster prevention park.