Dec. 03, 2010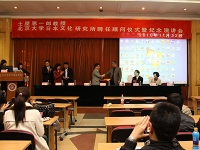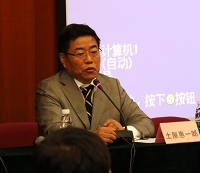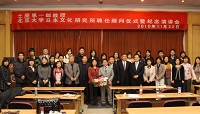 Executuve Trustee in Charge of Academic Affairs at Meiji University, Keiichiro Tsuchiya, assumed the post of special advisor to the Institute of Japanese Culture of the School of Foreign Languages of Peking University in China on November 22, 2010.

The inauguration ceremony, held at Peking University on the same day, was attended by Executuve Trustee Tsuchiya, Dr.Shinko Hayashi who serves as Adjunct Professor of the Organization for the Strategic Coordination of Research and Intellectual Property, and other members. Representatives of Peking University included Zhao Huamin, Associate Dean of the School of Foreign Languages, and others. A letter of appointment was handed to Executuve Trustee Tsuchiya in front of approximately 50 students of the institute.

This appointment reflects the recognition of his efforts to promote friendly exchange between Japan and China, especially in the fields of academia and culture. Associate Dean Zhao made a congratulatory speech and expressed his expectation that support would continue to promote Japanese studies, including traditional performance art such as Noh.

New special advisor Tsuchiya made an inaugural address, stating "I am honored and proud to be a member of Peking University." He expressed his ambition to contribute to the development of the Institute of Japanese Culture, and to further promote exchanges, noting that "We can find new ways for exchanges by mixing with each other, rather than merely maintaining our own individual standpoints."

On the occasion of his appointment as special advisor, Executuve Trustee Tsuchiya presented literature and documents relating to Noh plays to the institute, and gave a commemorative lecture under the title "Japan from the viewpoint of entertainment." At the lecture, he explained about "Izutsu," one of most famous Noh works, using pictures of the play. "Noh is, so to speak, a system which quotes and edits stories," he explained. He also referred to recent female fashions that express the spirit of Noh.

The School of Foreign Languages of Peking University was established in 1986. As one of the most famous research institutes that conducts cultural and academic exchanges between Japan and China, including exchanges relating to Japanese studies, it promotes research of Japanese studies in China and cultural exchanges at Peking University between the two countries.

Meiji University and Peking University concluded an academic exchange agreement in May 2009. Given that the second overseas lecture at Peking University was held by the School of Global Japanese Studies of Meiji University this year, the exchanges between the two universities have become very active. It is expected that further collaboration will be implemented in the future.