Nov. 06, 2015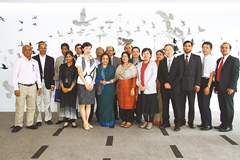 On October 2, a delegation from the University of Dhaka (in Bangladesh) led by Pro-Vice-Chancellor Dr. Nasreen Ahmad paid a courtesy visit to the Surugadai Campus. At the Global Front, they met for the first time, and conversed with, a group including Vice President Etsuko Katsu (in charge of international exchange); Dr. Hajime Ushimaru, Dean of the School of Business Administration; and Dr. Shizuko Kato, Professor of the School of Business Administration.

The University of Dhaka (a national university in Bangladesh)
- Established in 1921. It is the oldest university in Bangladesh and boasts the highest level of academic excellence. It has about 33,000 students and 1,800 teachers. It embraces 71 departments in 13 faculties, 10 institutes, and 38 research centers.