Sep. 04, 2019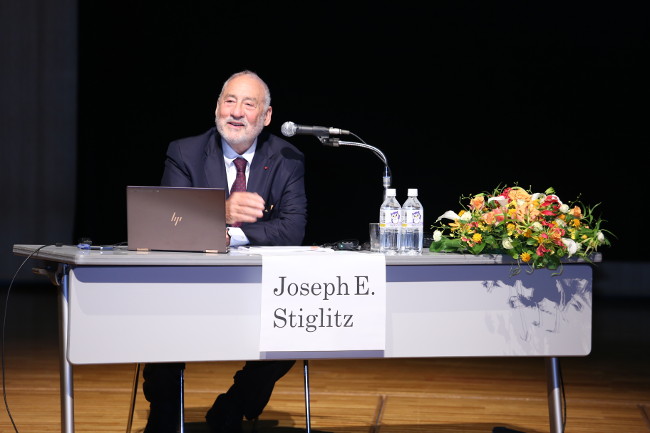 On August 27, the School of Information and Communication held a seminar, inviting Professor Joseph Stiglitz, Columbia University and a Nobel laureate for economics. The seminar is titled as "Globalization, Development and Achieving the SDGs in Africa" at Academy Hall on Surugadai Campus. This was held as a pre-event of the 7th Tokyo International Conference on African Development, or TICAD7, which opened on August 28 in Yokohama City, Kanagawa.
President Keiichiro Tsuchiya delivered the opening remarks and said, "It is important how we tackle issues such as the environment and climate change while achieving economic growth. I hope this seminar will serve as an opportunity to discuss the development of Africa and how Japan can be a partner of Africa.
In addition to a keynote lecture by Professor Stiglitz, the seminar had a panel discussion among Dr. Hafez Ghanem, the Vice President of the World Bank, Prof. Akbar Noman, Professor of Columbia University, and Go Shimada, Associate Professor of the School of Information and Communication. There were many questions from the audience, showing a high interest in the discussion of the seminar. The fourth year undergraduate student, Desty Nsengiyumva from the school served as a MC (Master of Ceremony).