The Chairman of the Board of Trustees shares his thoughts at the start of the year as we approach the 130th Anniversary of the founding of Meiji University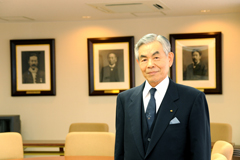 As we enter into the New Year I would like to send my greetings to all of you. As I mentioned on many occasions over the last year, next year we will reach a milestone as the University celebrates the 130th anniversary of its founding. In March of this year the number of students who have graduated from Meiji University will exceed half a million. Thanks to the wise and ceaseless efforts of all those concerned, you could say that Meiji University has taken root in deep soil. It is because of the warm encouragement which all of you have given which has made reform at the University possible in recent years.
In 2009 Meiji University was selected as one of the Global 30, a group of universities hoping to promote internationalization in Japan's universities, and the University also made an announcement to the media regarding our plans to develop the Tokyo International Manga Library. It is through efforts such as these that we can reaffirm the characteristics of our University. What is more, in the 2009 University Image Rankings survey conducted by Nikkei Shingaku Navi, Meiji University came top, above all other universities in Japan, in the Applicant Rankings.
It is one of our missions at Meiji University to continue our history and tradition based on academia with a new 21st century outlook based on intellectual creative production as well as having a coexistence between our national and international aspects. For that reason we aim to provide an education which is right and just as well as fair and equal, and which is based on the spirit of the University's founding principals of 'freedom and civil rights' and 'self-government'. More than ever before, we hope to spread our wings on the global stage, by educating students to the highest level and sending them out into the world as men and women who are able to achieve international success. In order to achieve this, we need to have the best possible research and educational facilities. As we reach our 130th anniversary we are pushing for the development of five new facilities: the Nakano Campus, District C of the Surugadai Campus, the Izumi Library, the Ikuta research experiment labs and Kurokawa Farm.
Educational and research capability is the foundation for academic achievement as a source of assurance in society, and is especially important at undergraduate level. I believe it is our role at Meiji University to provide robust and lively campuses on which our students can enjoy their youth, the most important period of their lives, and educate them so that they will have good universal judgment.
There is no doubting that our University is progressing at a steady rate. In order to continue our progression in leaps and bounds this year, I would kindly like to ask all of you for your continued support and guidance.
I wish you all health and happiness in this New Year.
Morihiro Nagahori, Chairman, Board of Trustees,
Meiji University