The University President shares his thoughts at the start of the year as Meiji University continues its rapid progress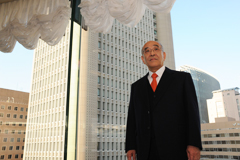 I would like to offer my heartfelt wishes for your happiness and health as we enter the New Year.
Since my second period as University President began in April 2008 it has been my policy to reform the university by opening it up to the world, and I believe we have now achieved this. Firstly in 2008, Meiji University's program on the formation and development of mathematical phenomena was selected for inclusion in the Ministry of Education, Culture, Sports, Science and Technology (MEXT) Global COE Program which focuses on the fields of mathematics, physics and earth science. Meiji University is the only private university to have one of its programs included in the Global COE Program. And secondly, last year we achieved another feat in being successful in our attempt to join the MEXT Global 30 initiative, which aims to form bases of internationalization at Japan's universities, with our Global Common Program. Under this program, whose catchphrase translates as "Want to Study about Japan? Choose Meiji!", aims to establish a global common of knowledge at the University where people from all over the world can gather. The Global Common Program will last for a period of 5 years and one of its aims is to increase the number of foreign exchange students to 1,600 students, about double the current figure. And planning further into the future, the University aims to have 4,000 foreign exchange students by 2020 and plans to send 1,500 Meiji students to universities abroad. If we are to be one of the top universities in the world this is one of the walls we must climb. As University President I will do my utmost to see that this program is a success.
Nowadays in Japan many debates are unfolding about higher education. It has been predicted that each university will have to fight for its survival as competition becomes increasingly severe. At Meiji University we will need to maintain our internationalized environment, develop new undergraduate and graduate schools, push forward with educational reform programs, and large scale research programs. This year we must also strive to expand cooperation with local communities and make further contributions to society. I also hope that we will remain on top of the University Applicant Ranking list.
I thank you for your cooperation, both in the year just gone and this year too.
Meiji University President
Hiromi Naya