University President Naya represents Meiji University at Sixth Beijing Forum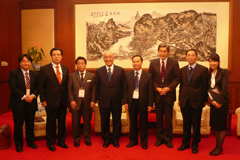 A delegation led by University President Naya represented Meiji University for the first time at the Sixth Beijing Forum international academic conference from November 6th to 8th 2009.

Meiji University was invited to attend through Prof. Shinko Hayashi, who is on the board of the Japan Research Center at Peking University and who is in charge of research and strategies for intellectual property at Meiji University, by Peking University as one of the universities in Japan with which it has established links.

President Naya made a presentation on Meiji University to the gathering, which included politicians, university presidents and professors from all over the world. In his lecture under the theme of Education and Changing Times, he spoke about changes in global society and how it was imperative to maintain quality in university education.

During the period of the Beijing Forum, President Naya and his delegation visited Peking University President Zhou Qifeng and his colleagues at the Diaoyutai State Guesthouse in Peking University. The delegates from both universities discussed reaffirming their partnership and strengthening their educational and research exchanges.

The Beijing Forum is an international academic conference approved by the Chinese State Council and held jointly by the Beijing Government and the Chinese Department of Education which has Civilization, Harmony and Prosperity for all Mankind as its central theme. Held with the cooperation of Peking University, Beijing Board of Education and the South Korean Foundation for Higher Education Funding, in the six conferences held so far around 2,400 prominent politicians and scholars from 67 countries have taken part. The Sixth Beijing Forum was held under the theme of Civilization, Harmony and Prosperity for all Mankind – Overcoming Crisis, the Road to a Harmonious Future.