Dr. Xia De Ren, Secretary of Dalian, Awarded Honorable Doctoral Degree by Meiji University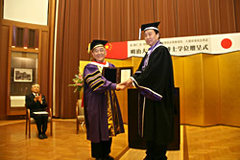 On February 4th, Meiji University awarded an honorable doctoral degree to Dr. Xia De Ren, secretary of Dalian, and a member of the standing committee of the communist party in Liaoning.

The ceremony was held in Kishimoto Tatsuo Memorial Hall on the 23rd floor of Liberty Tower, at the Suragadai Campus, and was attended by many top executives.

In his speech, president Hiromi Naya of Meiji University expected the acceleration of mutual understanding and friendship between China and Japan, and praised Dr. Xia's role as a leader in Dalian's politics and economy. President Naya hoped this event would be very beneficial for both the city of Dalian and for Meiji University, and would be the foundation for future vigorous international cooperation.

Following the speech, president Naya presented the diploma and the medal of the honorable doctoral degree to Dr. Xia, and Morihiro Nagahori, the chairman of the board of trustees, congratulated Dr. Xia and presented him with a gift. The honorable doctoral degree of Meiji University is awarded to those who have made outstanding contributions toward mankind in knowledge, arts and other fields. Dr. Xia is the 25th winner of the degree, following Mr. Mikhail Gorbachev.
"This honor is a present for all Dalian citizens, who have developed good relationships with Japan"said Dr. Xia in his speech. Dr. Xia expressed his hope for cooperation regarding the international exchange programs of Meiji University, and to strive for developing outstanding human resources necessary for the economic development of Asia.

Dr. Xia was born in 1955. After graduating from the School of Finance of Dongbei University of Finance and Economics in 1982, he became first a teacher at the school, and then president of the university in 1996. His thesis on the currency bank earned him a doctoral degree in 1990 from the university. His repertoire also includes managing director of the China Finance Society, and judge of the degree evaluation committee of the state council.

After resigning as president of the University, he became vice mayor of Dalian, and eventually mayor of Dalian in 2003. While mayor, using his insight as a scholar of economics, Dr. Xia furthered the internationalization of the city, introducing to Dalian the international economic forum Dabos in Summer , which met with great success.

Dalian, a city of about 6 million, is located on the southern tip of the Liaodong Peninsula, and is one of the economic centers of China. The city promotes policies of reform and openness and is renown for its rapid economic growth. It has a GDP of 15 in 2009. Surely, Dalian has close ties with Japan, evidenced by about 4,000 Japanese companies, as well as a Japanese school, located in the city.