The School of Law to hold Law in Japan Program through English (7/21 - 8/3)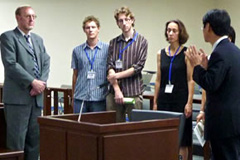 Students from the 2009 program at a moot court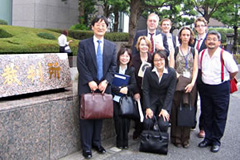 Students from the 2009 program visit a courthouse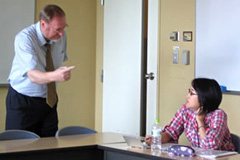 A scene from the classroom (2009 program)
Meiji University's School of Law is to hold the two week Meiji University Law in Japan Program, in which students will learn about Japanese laws and the Japanese law system through English, from July 21st to August 3rd of this year.

The program is being held in response to Meiji University being selected as one of the Global 30 universities, a Ministry of Education, Culture, Sports, Science and Technology initiative to set up a group of core international universities in Japan, to increase the numbers of long term as well as short term international students in order to facilitate further progression in the University's internationalization.

This program is already playing a part in Meiji University's development as a Global 30 international educational institution. In fact it is one of a number of programs which were planned and rolled out in 2009, and this will be the second year in which it has run.

In order to make this program accessible to international students, all classes are to be held in English. The students will be able to delve into many fields of law such as constitutional law, civil law, criminal law, corporate law, labor law, economic law, tax law and international law during the two weeks. The students will also have the chance to learn about the history, development and changes which have occurred in the legal system since the Meiji era. A curriculum has been prepared which will allow foreign students to learn about the characteristics of the current Japanese legal system and its laws through a sociocultural and historical context. In addition, to allow students the chance to expand on the information they will pick up in the classroom, tours of the national Diet, courthouses, legal offices, the Ministry of Justice, prisons and so on will also be arranged.