Dr. Song Qi Feng, President of Beijing University, Awarded Honorable Doctoral Degree by Meiji University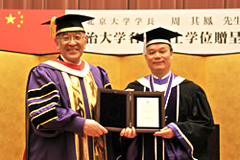 Meiji University awarded an honorable doctoral degree to Dr, Song Qi Feng, the president of Beijing University, on April 2. The degree recognizes those who have made outstanding contributions toward mankind in knowledge, arts and other fields.

The honor was bestowed upon President Song for his contributions to the progress of Chinese higher education, his academic achievements and the acceleration of exchanges with Meiji University. The ceremony was held in Kishimoto Tatsuo Memorial Hall at the Surugadai Campus.

"It is a great privilege for Meiji University to present President Song with an honorable doctoral degree," said President Hiromi Naya of Meiji University, and he prayed for a warm future friendship between the two universities. Also, Mr. Morihiro Nagahori, chairman of the board of trustees, celebrated the tightening of the relationship between the two universities and expected it to become a great step toward cultural and economic advancement in eastern Asia.

President Song acknowledged that it was a great honor not only for himself, but also for Beijing University. He also stated that both schools were excellent Asian universities, and he pledged to strive for a stronger collaboration between them. After the ceremony, President Song gave a memorial lecture on the theme of human resource development in the era of globalization in Liberty Hall

On the same day, there held a ceremony of signature on the agreement of the student exchange programs between the two universities. Starting with several table tennis games in 2003, the exchange between Beijing University and Meiji University has developed steadily. In May 2009, the two universities sealed the interuniversity academic exchange agreement.

Dr. Song Qi Feng was born in Liu Yang, Hunan in 1947. After graduating from The School of Chemistry of Beijing University in 1970, he became first a teacher at the school, then professor in 1990, a member of the Chinese Academy of Sciences in 1999, vice secretary of the degree evaluation committee of the state council, president of Jilin University, and finally president of Beijing University.