The University of Technology Malaysia Opens Satellite Office at Meiji University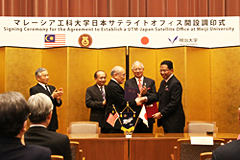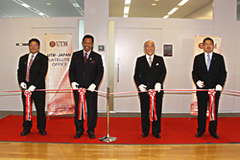 On April 20, Meiji University and the University of Technology Malaysia UTM exchanged the agreement and held the opening ceremony of the opening of a UTM satellite office at the campus of Meiji University.

The signing ceremony was held in Kishimoto Tatsuo Memorial Hall on the 23rd floor of the Surugadai Campus. UTM president Zaini Ujan and Hiromi Naya, the president of Meiji University, exchanged the signatures of the agreement in the presence of Malaysian Prime Minister Najib Razak.

President Zaini and President Naya initiated the opening ceremony of the satellite office at the Academy Common of Surugadai Campus. The two presidents and officials from the two universities inspected the office together.

Meiji University opened the first satellite office at the UTM campus in December of 2007, and now UTM has returned the sentiment by opening a base office in Japan. Now that each university has a satellite office as a foothold, it is expected that academic exchanges between Malaysia and Japan will flourish.