Meeting with core members of the lnternational Association of University Presidents (IAUP) and G30 University Presidents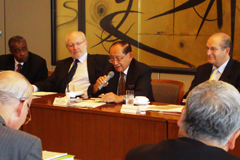 On June 18, 2010, a meeting with the core members of the International Association of University Presidents was held at the University in Ito Shiko Hall on the 23rd floor of Liberty Tower at Meiji University.

Presided over by the former director-general of UNESCO, Koichiro Matsuura, the leading members of the IAUP, including President Barham Madain Ayub and the former president of the Philippines, Fidel Ramos, and affiliates of Japanese universities, carried out a lively exchange of opinions on the subject of the collaboration of IAUP and Japan's industry-academia-government cooperation.

President Hiromi Naya and Vice-President Etsuko Katsu attended from Meiji University and actively exchanged opinions on the role that the University must fulfill concerning issues on the sustainability of the international community, the environment, and human rights.