Workshop for Trainees of Malaysian Qualification Agency (MQA)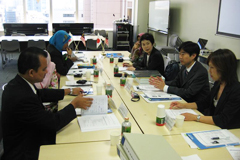 Photo during the workshop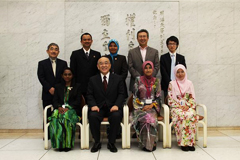 Commemorative photo with the president
On Friday, June 24, the University received five trainees from the Malaysian Qualification Agency (MQA) and conducted a workshop on university accreditation. This workshop was implemented in response to a cooperation request from the Japan University Accreditation Association for the trainees that the Association had received through Japan International Cooperation Agency (JICA) as part of the Economic Partnership Program (EPP) between Malaysia and Japan.

In the morning, the outline of the University's quality assurance system was introduced, such as the implementation of self-inspection and evaluation processes aligned with its annual plan and that of the Improvement Action Plan, an improvement system based on the evaluation results for accreditation.

In the lunch meeting that followed, trainees expressed their aspirations by saying that they hope to contribute to the development of higher education in Malaysia by leveraging what they have learned through this workshop in Japan. In response, President Hiromi Naya called for further bilateral cooperation between the two nations to make the ongoing quality assurance efforts into a global program by saying that only the serious commitment to self-inspection and evaluation can improve the quality of higher education and that he hopes that both nations will continue ongoing cooperation to build an evaluation method specific to each nation's culture and university characteristics.

In the afternoon, after touring around the campus, including libraries and the Universiti Teknologi Malaysia Tokyo Collaboration Office, participants had a discussion time where views were actively exchanged on the following: advantages and disadvantages of university evaluations conducted under the financial support from the government in Malaysia and those of a Japanese system that is based on peer reviews geared to self-improvement, evaluation criteria, and evaluation performance.

Today where educational research exchange projects are actively conducted beyond national boundaries, we are required to establish a world-class university evaluation system to promote the reception of foreign students and double-degree programs with overseas universities. At the University, we are determined to further promote the internationalization of education, research, and social contribution by enhancing quality assurance efforts with the international quality assurance network and overseas universities.