Dean's Speech Contest of the School of Global Japanese Studies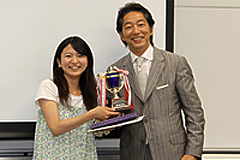 Ms. Kana Fukuzaki, winner of Dean's Award, and Dean Kanise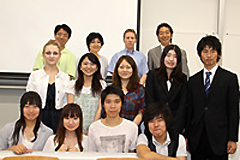 Group photo after the contest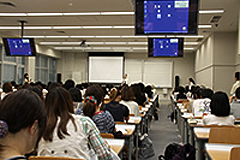 Contest venue
Hosted by the International Exchange Practicum 1 (Instructor: Keizo Yamawaki), the second Dean's Speech Contest of the School of Global Japanese Studies was held on Friday, July 2, on the Izumi Campus. Approximately 150 people, including students of the School of Global Japanese Studies as well as those of other schools and students of high schools attached to the University, attended the contest.
At the contest, a total of nine students gave speeches in English or Japanese. Ms. Kana Fukuzaki in the English section and Ms. Lyubov Wakabayashi in the Japanese section for foreign students won the Outstanding Performance Award in each section. And, Ms. Kana Fukuzaki was awarded Dean's Award (Grand Prix). Listed below are the names and speech titles of the nine contestants:
English Section
・Saki Nagayama: "I Want to Build World Peace"
・Toshihiko Jinno: "Global Japanese — Going the Paradox Between Global and Japanese Ahead"
・Nao Yamamoto: "Must We Be Slim?"
・Kana Fukuzaki: "What I Can Do"
Japanese Section
・Hye-Sung CHO (South Korea): "Global Otaku and Japanese Otaku"
・Lyubov Wakabayashi (Russia): "Life Bestowed Upon Us"
・Zhilin Zhang (China): "My International Exchange Experience"
・Hyo-Jin YI (South Korea): "Happiness for Everyone…"
・Shiwen Fang (Hong Kong): "My Encounter with Bushido"
The following four faculty members from the School of Global Japanese Studies served as judges: Dean Seiichi Kanise, Professor Tomoko Himeno, Associate Professor Kenji Suzuki, and Specially Appointed Lecturer Gregory L. Friedman.