Short-term exchange students from the University of Southern California visited Japan (July 5 to August 1)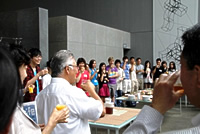 Welcome Party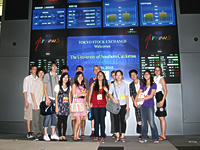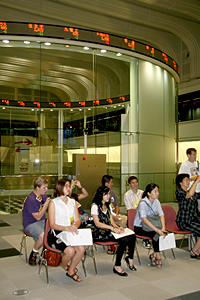 USC students visiting the Tokyo Stock Exchange
The School of Political Science and Economics, Meiji University, hosted 12 short-term exchange students from the University of Southern California (USC) on July 5. During their stay in Japan, they learn not only Japan's political science and economics through such courses as Japanese Politics in Comparative and Japan's Recent Economic Challenges, but also Japanese culture through such courses as Cool Japan and Japanese Language Instruction.

Moreover, students of both universities deepen exchanges through a tour around Tokyo and a joint workshop at Yamanakako Seminar House.

USC was established in 1880 and is known as the oldest private university on the West Coast. In the university rankings by the magazine US News, USC ranked 26th (2010) and the Times rankings 102nd (2008). USC also has an excellent track record in sports and has produced many Olympic athletes and gold medalists.