Meiji University and The UNHCR in Japan concluded an agreement concerning the practice of admission-upon-recommendation intended for refugees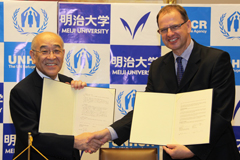 President Naya (Left) and Director Cels shaking hands to conclude the agreement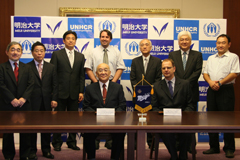 On July 28, the University and the UNHCR in Japan concluded an agreement to put the admission-upon -recommendation system intended for refugees into practice. Following Kansei Gakuin University and Aoyama Gakuin University, this is the third case where this sort of admissions system was introduced in a Japanese University.
On the same day, in the signing ceremony in the VIP room on the 23rd floor of the Liberty Tower on the Surugadai campus, University affiliates, including President Hiromi Naya, and affiliates of the UNHCR including, representative of Japan Johan Cels, each attended.
President Naya said, "Meiji University is a University that attaches great importance to human rights and is proud to have earned the opportunity to support refugees" at the opening of the signing ceremony. Director Cels followed by giving an address of gratitude for the acceptance of refugees: "The significance of the refugees receiving an education at Meiji University, of which alumni hold important positions in Japan and abroad, is great."
After the meeting, President Naya and Director Cels signed the agreement. At the end, they gave each other a strong handshake.
The agreement states that, Meiji University admits not more than two refugees recommended by the UNHCR in Japan every year starting April 2011, and as a general rule, exempts academic and tuition fees and grants a monthly fee of a hundred thousand yen for living expenses.