iTunes U launched a video distribution service at universities, including Meiji University, the first of its kind in Asia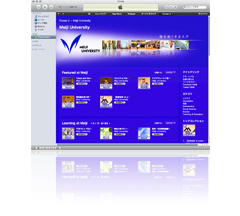 iTunes, from Apple Inc., is a popular service available around the world. The service provides a tool that provides not only music via the PC, iPad, iPod, or iPhone, but also videos and TV programs via podcasts.

iTunes U, one of the iTunes services, provides university lectures and information free of charge. It has drawn global attention since it provides the opportunity to experience lectures from prestigious universities, such as Harvard and Stanford, to any person around the world.

On August 25, 2010, iTunes U finally launched the long-waited service at four Japanese universities, the first of its kind in Asia, and started to distribute video content. Needless to say, Meiji University is one of the four universities!

Through the service, you can enjoy a variety of classes offered by Meiji University, including special and unique lectures. It also provides an array of content created by students in addition to standard content, that is, videos introducing the university and its attached facilities. Moreover, we plan to offer new programs, such as sports features, as well as updates, so don't miss it!