Cooperation Agreement with Yonsei University (South Korea)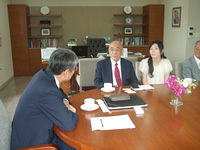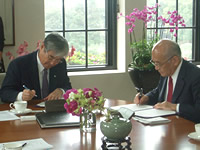 On July 22, 2010, during a visit of Dr. Kee Soo Han, Vice President of Yonsei University, to Meiji University, the two universities exchanged a pledge to conclude a cooperation agreement at Yonsei University. Following up on that pledge, President Hiromi Naya visited Yonsei University, paid a courtesy call on its president, Han Joong Kim, and signed a cooperation agreement.

Widely recognized throughout South Korea as a prestigious school, Yonsei University is one of the top academic institutions in the country. It boasts global-level research and education activities in a wide range of fields, and is engaged in active exchange of researchers and students with partner academic institutions throughout the world. Meiji University has a record of exchange activities with Yonsei University, and for the past two years, the School of Political Science and Economics of Meiji University has accepted students from Yonsei University for study tours of Chiyoda City Hall and the Diet. The School of Science and Technology, too, has been engaged in exchange among instructors.

Going forward, the two universities are implementing specific exchange projects, including mutual interchange of students among departments, and the present cooperation agreement is expected to further enhance and deepen exchange.